SYNLawn of Charlotte, NC provides realistic artificial golf turf for putting greens, tee lines, portable mats and all golf applications.
If the game of golf is a priority for you why not make practice more convenient by making one of our synthetic grass putting greens your own? Our backyard golf greens and indoor putting greens are favorites of residential and commercial customers alike, and are just the beginning of the products we can offer for golf enthusiasts like you.
Each and every one of our golf-related applications features a custom design as well as our SYNLawn® synthetic turf products, which have consistently set a standard for excellence in our industry. Southeast Turf putting greens look, feel and play at such a realistic level as to offer the quality conditions you need to improve your short game exponentially.
Southeast Turf golf-related products include: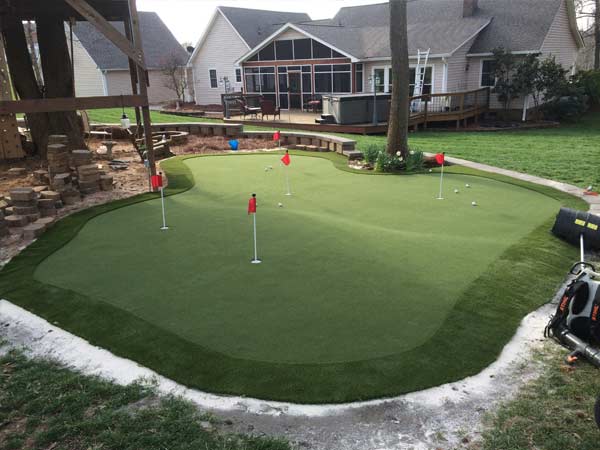 Practice golf greens
Custom design and installation
Commercial tee lines
DIY putting greens
Portable mats and greens
Turf for fairways, roughs and fringes and collars
Precision installation services provided by certified SYNLawn® Greensmaster™ professionals
Southeast Turf has benefited greatly from our relationship with SYNLawn®, whose golf products were created in tandem with golf legend and highly respected instructor Dave Pelz. His expertise has helped to create a line of golf products that can take your game to the next level while adding to the beauty and value of your home.
There has never been a better time to make an artificial grass golf green from Southeast Turf your own. The benefits of having your own practice facility on-site at home is a true golf lover's dream, and one that the experienced professionals at Southeast Turf can make come true for you. Call today to learn more about our exciting and affordable line of golf products and how they can benefit you.