Artificial grass landscape designs & installation for residential or commercial properties
Impress your guests and become the envy of all your neighbors by using artificial grass for your landscaping needs. Charlotte-area residents and business owners should consider artificial grass instead of traditional sod for a variety of benefits. Artificial grass is eco-friendly and low-maintenance so you can enjoy more time doing what matters most. Our team will work with you to develop a landscape design that is both practical and fun for you and your family to use.
Say Goodbye to Sod
Through years of research and development, we have developed a synthetic grass system that can replace natural grass. Our artificial grass features a drainage rate of 45-inches per hour. This means our turf can handle heavy rains, snowfall, and other weather conditions without collecting standing water on your lawn. Our high-performance synthetic materials are soft to the touch and look like real grass. Use SYNLawn artificial grass in your North Carolina landscape design for a natural grass look with none of the added maintenance.
Save Time and Money
One of the main benefits an artificial grass installation at your residential or commercial property is the promise of a lower-maintenance landscape. Our systems don't need to be mowed, weeded or manicured in any way to maintain the lush green appearance. Our artificial grass only needs to be sprayed with a hose and brushed with a non-metal brush to remain beautiful all year long. Homeowners and business owners will see lower water bills after installation, too. Installing artificial grass will restore your precious time and put hard-earned money back in your wallet.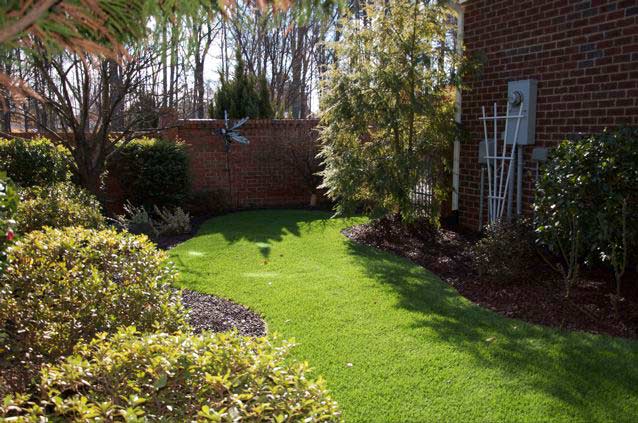 Landscape Uses
The possibilities are endless when it comes to artificial grass landscaping capabilities. Our products can be installed outdoors or indoors, creating a unique space. We can even work around existing features in your yard, such as a stone patio, gardens, or trees and shrubs. Consider adding artificial grass to your landscaping plan in one of the following ways:
Front and backyard lawns
Playground surfaces
Residential pet areas
Dog parks and daycares
Indoor and outdoor putting greens
Rooftops, decks and patios
Our experienced team with come to your North Carolina home or business to evaluate your landscaping needs and help you decide what products will work best in your space. Contact us today for a free on-site consultation to start the landscape design process.