Safe Artificial Grass for Pets & Dogs From SYNLawn Carolina
Artificial grass that is designed for pet and dog use is highly durable and safe for the whole family, including your four-legged friends. SYNLawn Carolina can design and install a backyard lawn, dog run, kennel system or landscaping that will keep your pets happy and safe. SYNLawn Carolina has been installing artificial grass since 2011, in that time we have designed and installed hundreds of beautiful lawns and artificial grass projects. Our team has the experience and knowledge to get the job done right the first time.
Browse Our Pet & Dog Turf Gallery >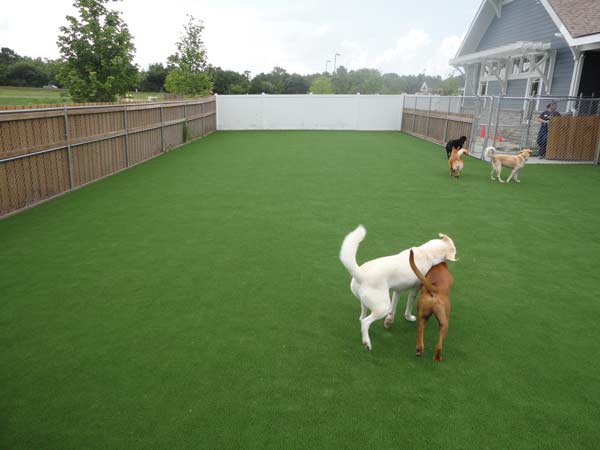 Pet owners can expect the following benefits from our artificial turf:
Our surfaces stay cool even during hot summer temperatures
No holes caused by your dog digging
No dirt or mud tracked into your home
No urine spots on your lawn
Pests such as fleas and ticks can't survive on our synthetic lawns
We offer custom upgrades for added security should your pet require them
No More Muddy Paws Indoors
With expertly installed artificial dog turf, you can wave goodbye to dirt and mud tracked indoors by your four-legged rascal.
We install our pet and dog turf with proper grading and drainage in mind. This leaves your pets to play on an artificial grass area that is clean and beautifully manicured, no more muddy dog prints in the house.
Not to mention that our artificial turf is very nearly maintenance free, and looks perfectly green and manicured whether it's the middle of summer or during early spring after the snow has melted.
Highly Durable Pet & Dog Grass
Our artificial dog turf is very durable, however it's important to understand what type of a workout your outdoor area will see. For example a 15 pound pug will have different needs compared to an 80 pound boxer. Some dogs are very active and spend all day outside, others spend most day inside. Many dog owners have multiple pets, and others have a single dog.
As such we will take in all those variables into consideration and adjust the type of dog turf we recommend, it will change with each individual application. We will custom build an artificial grass solution that perfectly suits your specific needs and budget.

Low Maintenance & Beautifully Manicured Lawns All Year Round
While fido will be happy to be playing on a cool, safe, hyper realistic artificial grass surface, you the homeowner will enjoy your new picturesque lawn that looks exactly the same all year round.
Not only that, you can also get your weekend back (or pay your landscaper less) as artificial grass needs little to no maintenance. Enjoy the additional eco/green benefits of artificial grass with reduced water bills and no need for noisy lawn equipment that can pollute the clean fresh North Carolina airways.
Artificial Pet Grass In North Carolina
Make sure that the time your pet spends outside is spent in comfort on synthetic turf from Southeast Turf. Our state-of-the-art artificial grass products come from industry leader SYNLawn®, and make for a pet or dog turf that is safe, comfortable, durable and easy to maintain. From artificial lawns to pet runs we'll create a custom design for you and your furry four-legged friend that will accentuate your outdoor space and bring beauty and value to your home.
When we install synthetic grass landscaping turf for your pet we take a great many things into consideration. What type of dog you have and how much time it spends outside are important considerations, and it's all part of creating a custom design that is unique and fits your needs.
Get A Free Consultation Today
As a conscientious pet owner you want to know that your pet is healthy and happy during its time outside. Our SYNLawn® synthetic turf is the ultimate pet turf because it was designed with the needs of pets and pet owners in mind.
Call us today on 704-997-8006 or send us a message online to schedule a free on-site consultation. Southeast Turf will answer any and all questions you may have regarding our products. We look forward to beginning the process of outfitting your yard in a way that promises your pet will enjoy and adore.
SYNLawn Pet Platinum
SKU: ST343_Pets | Total Weight: 80 oz | Warranty: Limited lifetime warranty*
The ultimate artificial grass designed for pets of all shapes and sizes. With maximum drainage built-in, cleanup is a breeze. Ultra-durable Super Yarn™ construction eliminates digging, brown spots, and other common problems found in backyards and pet facilities.
More Information
Product Reviews
SYNTipede 343
SKU: ST343 | Total Weight: 106 oz. | Warranty: Limited lifetime warranty*
SYNTipede 354 is the ultimate in hybrid synthetic grass technology. This cutting-edge artificial grass product incorporates the latest technology in every aspect of design and manufacturing combining beautiful multi-colored 'Omega' shaped grass blades with our exclusive HeatBlock Technology for superior strength and lower surface temperatures.
More Information
Product Reviews