100% organic deodorizer for artificial grass in Charlotte
Odor control is a common concern among pet owners throughout North and South Carolina. Our team understands that it's important not only to create a pleasant backyard for the family, but one that also offers your pet a safe space free from harmful chemicals and contaminants. That's why we use EnviroFill® artificial grass infill. This all natural, 100 percent organic deodorizer helps maintain hygienic artificial grass year-round. EnviroFill® is free from harmful components such as calcium and quartz, which has contributed to its status as one of the most trusted infill brands on the market today. EnviroFill® adheres to the most stringent environmental safety standards, surpassing even the requirements of California Proposition 65.
How Does it Work?
EnviroFill® is a negatively charged infill which traps ammonia commonly found in pet urine. Its negatively charged properties prevent ammonia from changing into a gas, eliminating the smell completely. There is no waiting period because EnviroFill® works immediately after installation. Other infill options, such as silica sand, trap ammonia, which actually amplifies the smell of pet waste.
With Southeast Turf/SYNLawn Carolina, EnviroFill® works in conjunction with our pet turf to create a space your pet will love. While water is not required in order for EnviroFill® to work, cleaning your artificial lawn will not prevent the infill from doing its job. Simply hose down your pet's favorite area on your regular schedule without worry. Water will release the magnetivity of EnviroFill® and allow trapped odors to be washed away. Our artificial grass comes with a 30-inch per hour drainage rate, which means it will be ready for use again within minutes.
EnviroFill® offers homeowners a variety of benefits: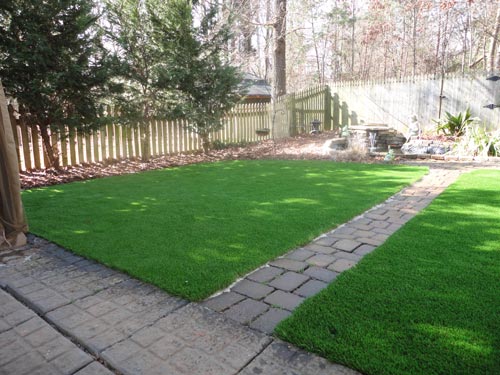 100% natural and listed as organic
Safe for both kids and pets
Strong absorption rates to remove tough odors
Matches brown thatch in artificial grass
Will not clog turf drainage holes
Eight-year warranty against deterioration
With all these advantages, EnviroFill® is truly the preferred infill for pet owners across the Carolinas. EnviroFill® is both environmentally friendly and safe for both pets and people. Contact us today to learn more about EnviroFill® and if it is right for your synthetic lawn.