Artificial Turf Options From SYNLawn North Carolina
At SYNLawn North Carolina, we provide several specialized forms of synthetic grass, which can be great for different applications with urban planning. Some of these options include:
Environmental Benefits of Synthetic Lawns & Landscaping
At SYNLawn North Carolina, our artificial grass also has numerous environmental benefits, making it an attractive option for urban planning in North Carolina communities. One of the most significant benefits is water conservation. Artificial grass can be a viable alternative to conventional grass in regard to water waste. With synthetic grass, watering is unnecessary, reducing overall water consumption in a community.
Our synthetic grass also reduces the need for pesticides and fertilizers, commonly used to maintain traditional grass. Pesticides and fertilizers can leach into soil and waterways, causing potential environmental harm. Our artificial turf eliminates the need for these chemicals, which can help improve the quality of the environment and reduce potential damage to humans and wildlife.
In addition, our artificial grass requires fewer resources than conventional grass. It helps reduce carbon emissions by eliminating the need for mowing and transportation of lawn equipment. So, the carbon footprint of artificial grass is significantly lower than that of traditional grass surfaces.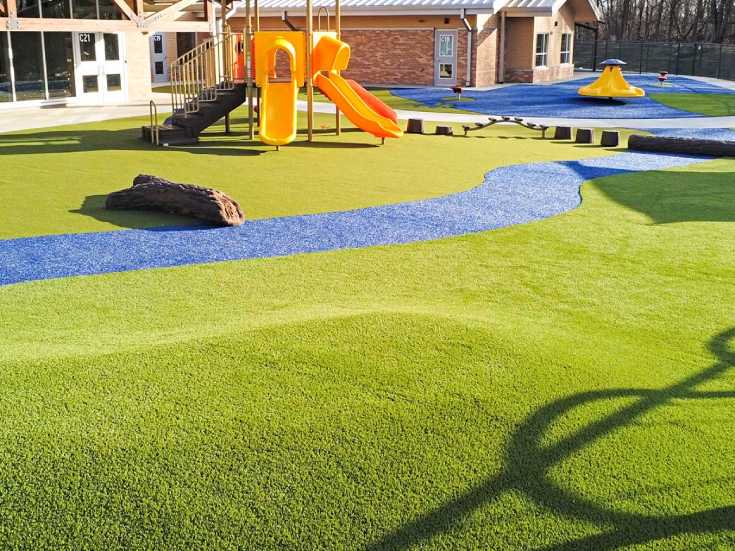 Social Benefits of Artificial Grass
Green spaces are often limited in urban areas, leaving some residents without access to them. However, with our artificial grass, it becomes possible to create more green spaces in a variety of spaces, including previously barren or underutilized areas. This leads to increased accessibility to urban green spaces for residents, providing them with a place to relax, exercise, and connect with greenery. Additionally, our artificial turf does not produce conventional grass allergens, which can help improve the air quality in urban areas.
Contact Us Today For More Information on Artificial Turf for Urban Planning!
Artificial grass from SYNLawn North Carolina provides numerous benefits for urban planning, including environmental, economic, and social advantages for communities in Charlotte, NC, and more. The benefits of our artificial turf make it a promising option for urban planners looking for cost-effective, low-maintenance, and aesthetically pleasing landscaping solutions. So, if you would like more information on integrating artificial grass into urban spaces, contact us at SYNLawn North Carolina today!