Some of the many benefits of choosing our artificial grass for your lawn, landscaping, or golf surface include:
Consistent visual appeal all year round
Highly realistic lush, green grass surfaces
Inviting beauty
Little to no maintenance
No mowing, trimming, fertilizing, or removing weeds
No watering
Enhanced durability
Weather-resistance
Unwelcoming to insects & rodents
Made from Non-toxic materials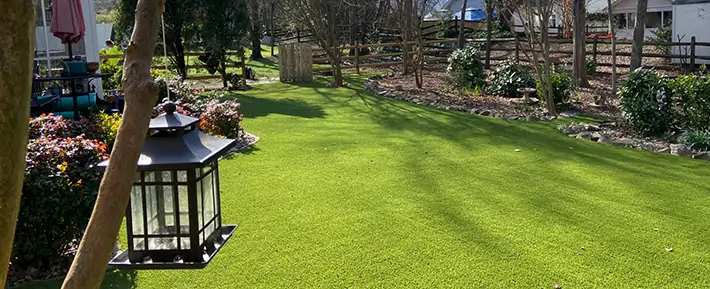 With advantages such as these, our top-rated artificial grass is the clear choice for lawns, landscaping, putting greens, and more in Charlotte, NC.
Specialized Artificial Turf Products From SYNLawn North Carolina
At SYNLawn North Carolina, we specialize in supplying and installing artificial turf of all types for multiple kinds of properties and purposes. Some of our several specialized synthetic grass products include:
Trust SYNLawn North Carolina for Quality Turf Products & Installation
At SYNLawn North Carolina, we provide gorgeous artificial grass surfaces for homes, businesses, and more in Charlotte, NC. Our state-of-the-art synthetic turf is realistic, attractive, low-maintenance, water-saving, and durable. This makes it a far superior surfacing option for lawns, landscaping, golf, and more. So contact us today to learn more about our artificial turf services and to get a free quote!