In the great state of North Carolina, we help clients custom design and build mini golf courses for their home, office or commercial use. Our mini golf courses are professional-grade and great for hosting tournaments and even entertaining the most discerning of golf pros that enjoy a mini game of golf. Regardless if you are planning on a mini golf course for use as a private course or for a commercial endeavor we can make your dream a reality complete with complex challenges.
In the work of synthetic grass and turf, we get to take part in a wide variety of projects. Out of all those that we get to be part of here at SYNLawn Carolina, some of our favorite and most enjoyable are the ones where we have helped to design and install commercial artificial grass on courses for mini-golf. 
Design Experience
At SYNLawn Carolina, we take the time needed to sit with the prospective mini golf course owner and learn about what elements they want and need in their design. Often, a quality mini-golf course will have a mix of things. Some courses should be more intricate in order to be a fun challenge for older players, while others should be simple and straightforward, which is more suitable for younger guests. 
We make sure to take into account criteria such as the space, size, and the natural land flow to create a layout that incorporates all the necessary features in a way that looks great and functions even better. With the high level of design experience that SYNLawn Carolina's staff possesses, you will come away from our initial consultation with a design that not only makes sense but you are assured of quality you can trust and our genuine love for the game will help capture that excitement into your mini-golf course.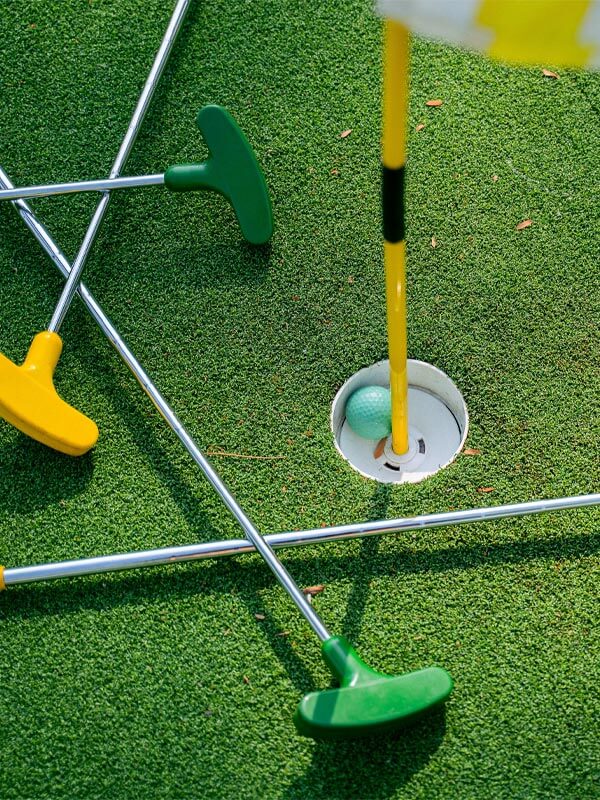 Golf Solutions & Size Restrictions
When you imagine a mini-golf course, it's common to visualize a large space with huge, colorful structures, like windmills and castles. This is probably because the average size of a mini-golf course is 20,000 square feet! However, even though they are often placed in larger spaces, you can also adjust them to accommodate smaller locations. It just boils down to creativity and using available space wisely, and our expert team at SYNLawn Carolina can help you design a mini golf course that fits your space perfectly and is a joy to play on. You can even incorporate fun playground turf options into your mini golf course design.
Not all mini-golf courses are just commercially focused, either. Whether it is a small area next to a pool or an empty spot near your driveway, you can turn many locations near your house into a putting green or mini-golf course that you and your family will love to play on for years to come. 
Of course, this will depend on what components you want to have incorporated into your design, there are countless options available, no matter the size of the space you have. And if you are not sure exactly what you want to incorporate into your mini golf course our team of professional designers will help you every step of the way. Making suggestions to suit your overall objectives and vision for your space.
In our many years of service at SYNLawn Carolina, we have turned dreams into realities time and time again. We have designed and installed golf greens that were professionally sized courses, as well as waterfront putting greens. We have been fortunate enough to build small three-hole practice spots in addition to longer driving ranges. Our ultimate goal is to take the vision of the client and bring it as close to fruition as possible, exceeding expectations and wowing you with the end result.
Whether you have a commercial mini-golf course in mind, or you want to install something small on your own private property for your family's use, we can design and install it with our premium artificial golf grass. 
Types of Products Offered
When you reach out to our designers at SYNLawn Carolina to discuss your artificial grass mini-golf course, not only will you receive a free consultation with our highly experienced representatives, but you will also have access to high-quality products created by golf legend Dave Pelz.
His collaboration with our headquarters for artificial grass and turf company SYNLawn, of which SYNLawn Carolina Is an exclusive distributor, has allowed for a top-of-the-line golf synthetic turf that is long-lasting, highly durable, and of the best professional quality.
In addition to that, you will be able to take advantage of many other product offerings that SYNLawn Carolina provides, such as:
Your design partners here at SYNLawn Carolina will work alongside you to identify what synthetic grass and artificial golf greens will best serve the purpose of your project. We will take into consideration many aspects of your desired synthetic golf green course, including features such as location, layout, property make-up, existing hardscape and natural land flow. We'll be sure to recommend the artificial grass solutions best suited for your unique needs.
How Do I Start the Process?
We make it easy to start planning for your dreams with a free consultation. We have many highly qualified designers and technicians that are excited to speak with you about your golf course goals, from the mini golf course to the full scale golf greens, and everything in between.
With many years of experience and training, we will be able to put your long-time vision into an executable physical plan. Your design will include the best products available for your project, and the long-lasting durability and low maintenance needs of our artificial grass and golf greens solutions and products will afford you plenty of time to enjoy your new fun addition.
To schedule a personal consultation with one of our knowledgeable experts, send us an email here, give us a call (844-257-0900), or stop by our office by appointment:
SYNLawn Carolina
5890 E Bandys Crossroads, Catawba, NC 28609
We look forward to hearing from you and bringing your dreams for a spectacular SYNLawn Carolina mini-golf course, putting greens, pet grass or artificial grass lawns and more to life!