The Benefits of Synthetic Grass
Our natural yards have a variety of needs. Think about all of the things that you currently do to keep your yard up to standards. Although all yards are different, there are several common tasks. For most people, this list includes:
Mowing
Watering
Re-seeding
Sweeping
Edging
Weeding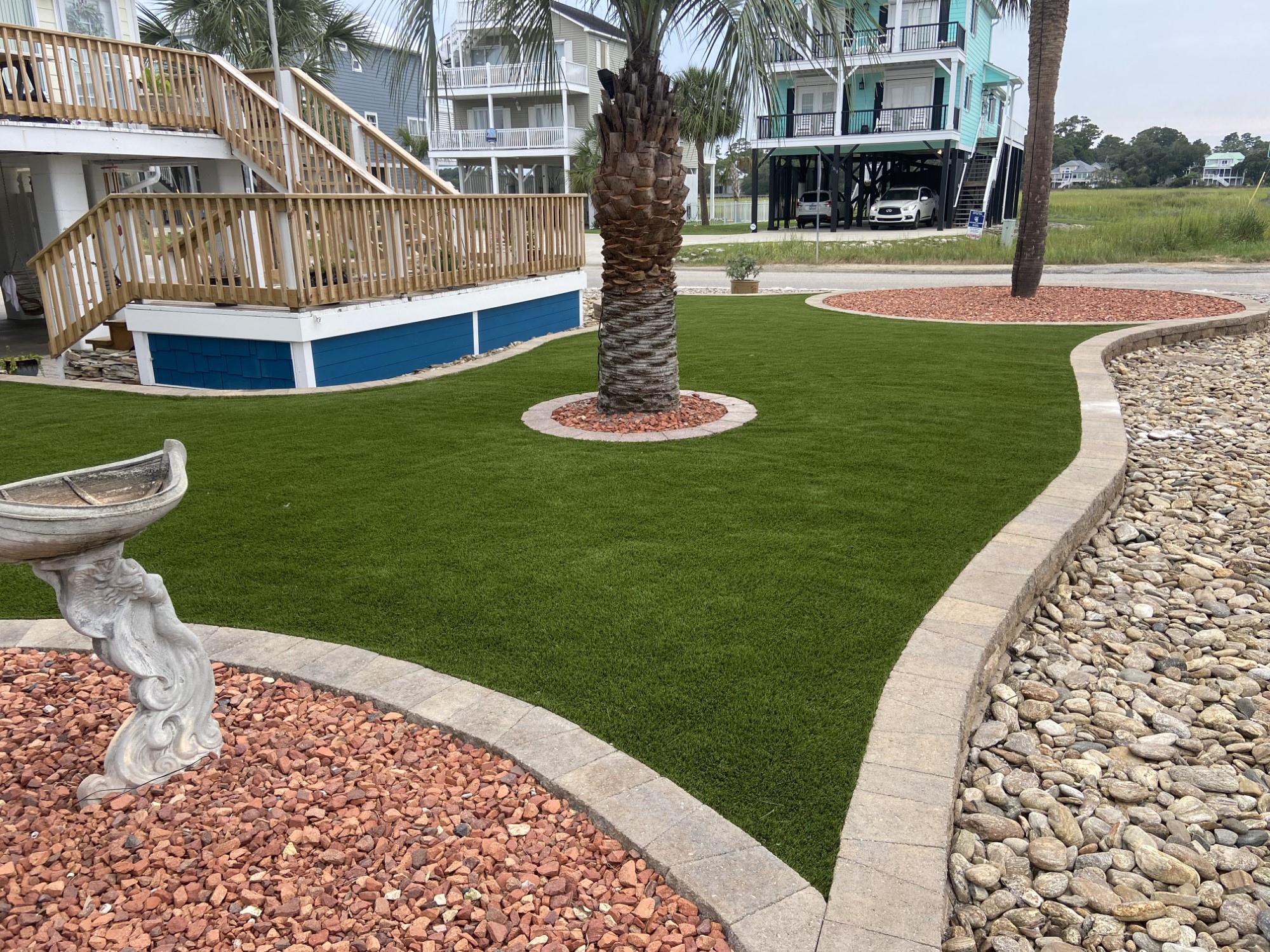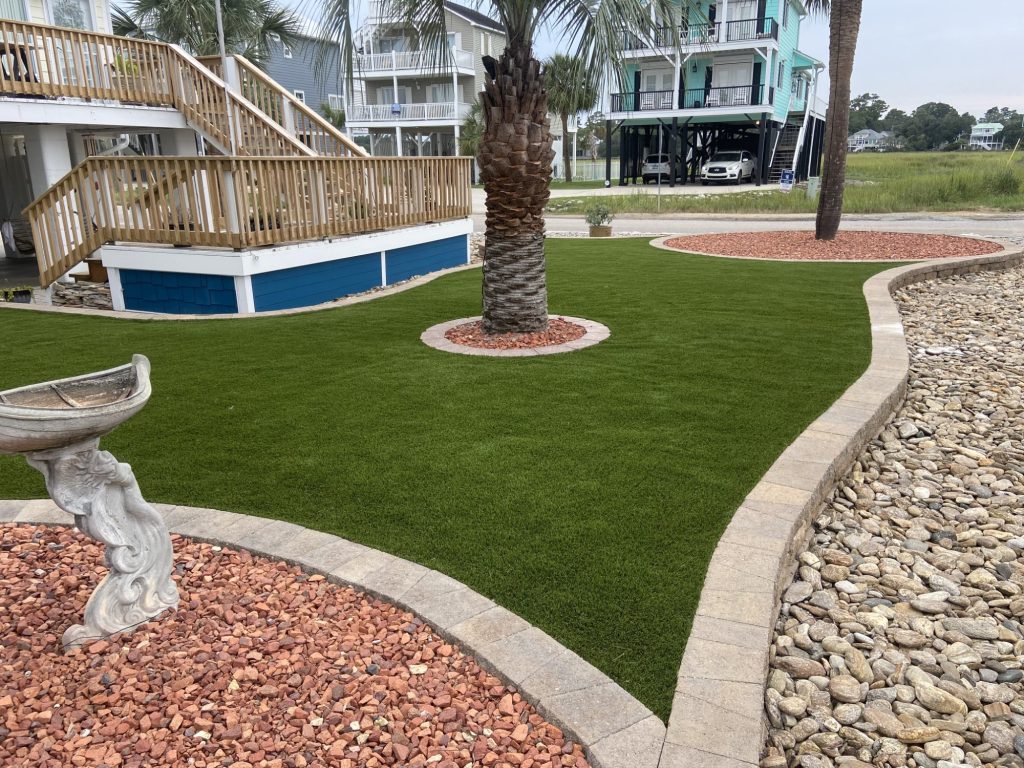 Depending on the time of year, some areas of the world also have to accommodate mosquitos, ants, bees, and additional insects that are known to bite, among others. To say it's exhausting and time-consuming to take care of your yard is an understatement.
The biggest advantage that our artificial grass at SYNLawn Carolina provides is that all of those chores go away! When you invest in our synthetic grass, you no longer have to worry about maintenance of any sort. Gone are the days of watering, mowing, and re-seeding—as well as the cost and time that is associated with them. To make things even better, when you walk out to see your yard each day, it will look like beautiful, perfectly manicured golf greens that are kept in perfect condition.
Synthetic grass can serve many purposes. Although some refer to artificial grass as "fake grass", it is so much more. No longer do you have to worry about bugs and weeds. The ability to conserve water is also made easy due to how low maintenance artificial turf is.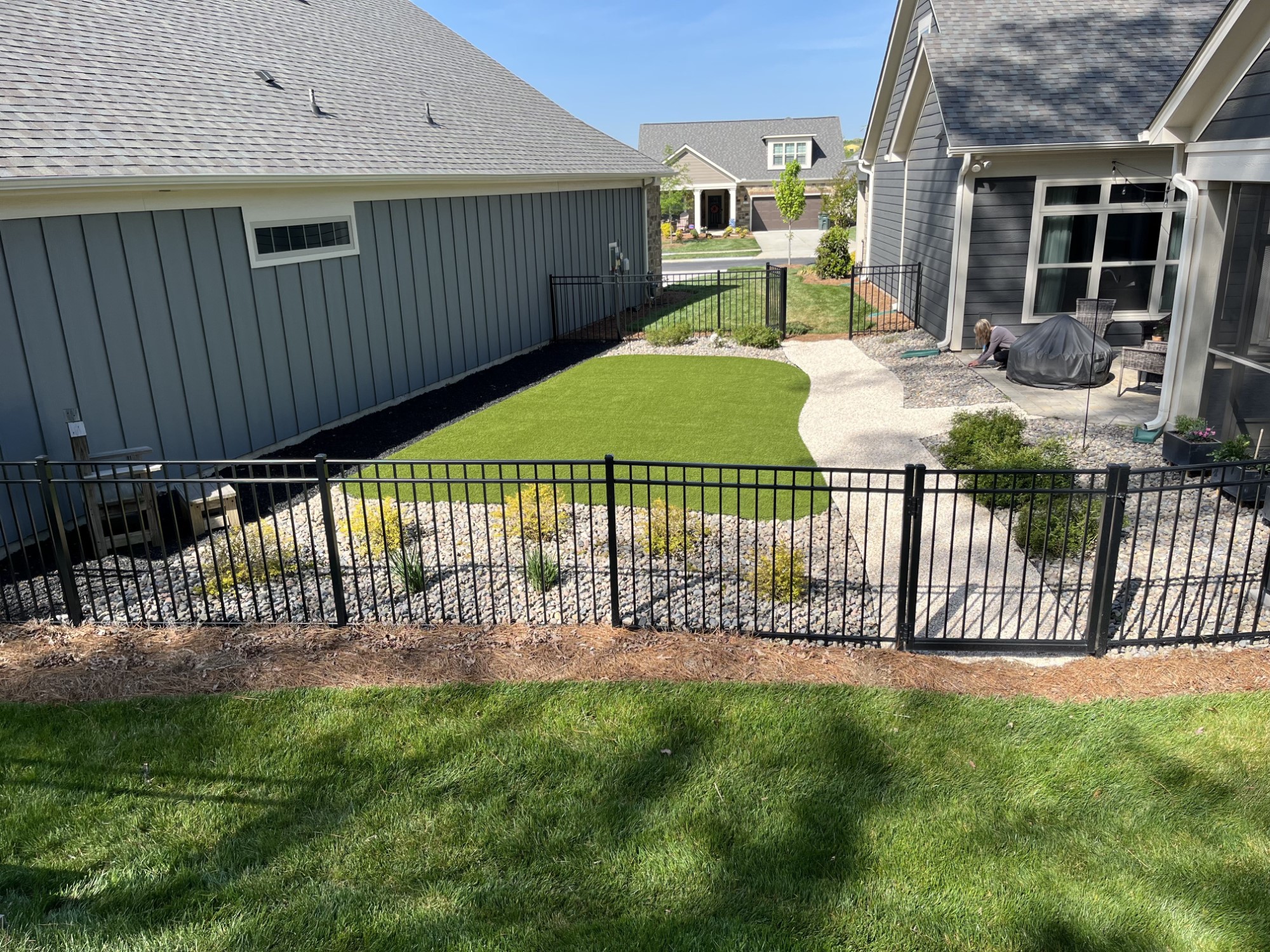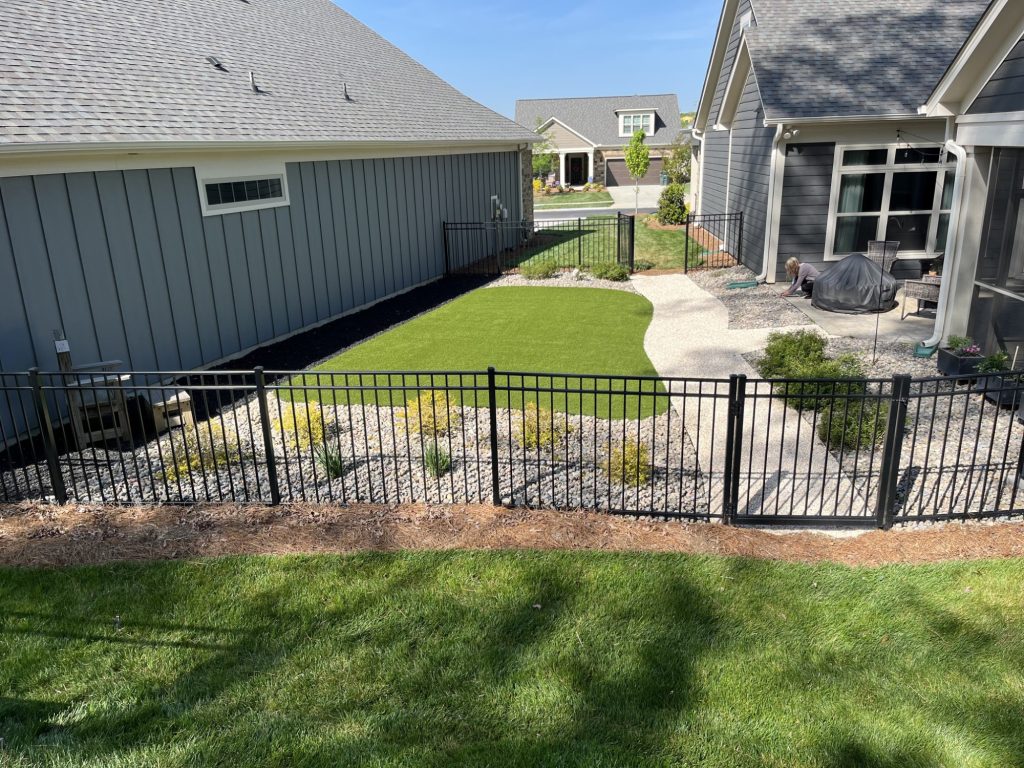 Additionally, our SYNLawn line is built to be heat resistant. With that benefit, your pets and family members will be able to enjoy playing in the outdoors during summer days without fear of being burnt by hot grass. Can you imagine how much better your summers in Hickory, NC will be with that benefit alone?
Not only will you find our synthetic lawn beneficial in that you have no maintenance obligations, but as we said earlier, it's also better for the environment—it lasts a very long time and doesn't need to be treated with chemicals like fertilizers and pesticides.
Artificial grass—just like our synthetic putting greens, playground turf, sports fields, and pet and dog turf—does not rely on water for its lush look. That aesthetic is created with synthetic fibers that are perfectly formed, colored, and cut to resemble a perfect landscape. There is no need to keep it watered; it maintains itself!
Where You Can Use Artificial Grass
The beauty of synthetic grass is that it is extremely versatile. Along with utilizing it for residential homes, you can also find it displayed in the following places:
Some towns and municipalities have even decided to utilize artificial grass for their downtown and park areas. They have made this move to have a clean, neat, and uniform appearance within their city. Beautifying an area is only one of the many benefits that towns receive from artificial turf, however. With synthetic grass, the need for lawn maintenance is almost completely eliminated. In fact, towns and municipalities are actually finding that they are reducing their budget by going the artificial grass route, including commercial artificial grass in the city.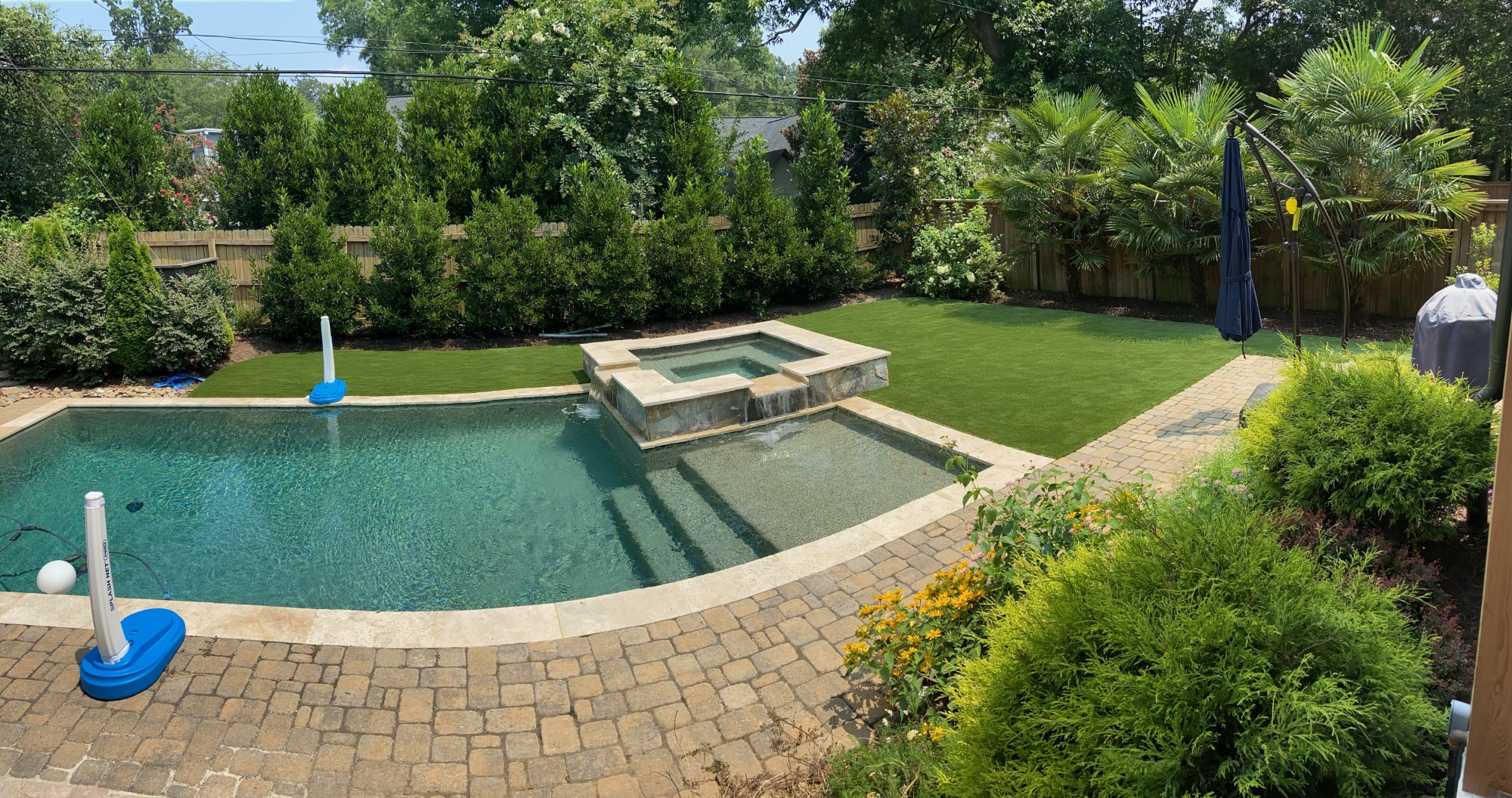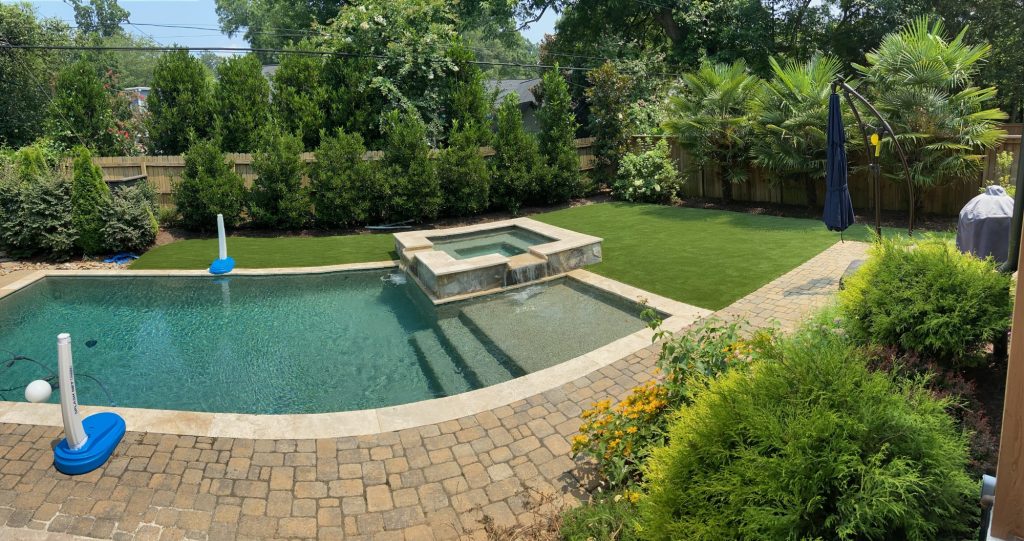 When you use the synthetic grass at SYNLawn Carolina, your investment will last an average of 15 years with no fear of fading or staining. With the fibers that make up the grass and the durable construction, you can spill an entire bottle of red wine on it and still see no difference in color. (It's also quick draining, able to drain away that wine or the latest thunderstorm downpour; quickly so that puddles never form and turn to mud.) The stain resistance is highly beneficial for families that entertain a lot or that have pets and children.
Do you have pets? Are you looking for fake grass for dogs? Yes, we offer dog run artificial grass to make it easier and more comfortable for your pup. Or if you do a full artificial pet lawn they will have room to romp and to chase after balls you throw around the yard. This dog grass is eco-friendly and robust, making it super safe for both pets and children.
How To Get Started
Here at SYNLawn Carolina, we offer a no-obligation free consultation for those looking for more information about our products. We not only serve Hickory, North Carolina, but many areas of the state, so we know the peculiar needs of all different locations. You can trust us to make your yard look like a picture-perfect photo you'd see on Pinterest, for home or office. To schedule a personal consultation with one of our knowledgeable experts, send us an email, give us a call on 844-257-0900, or in person at our office by appointment, 5890 E Bandys Crossroads, Catawba, NC 28609