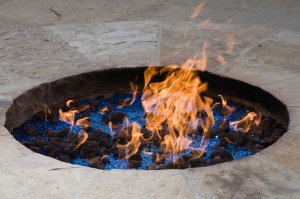 Transitioning between seasons can take quite a toll on one's backyard and home, particularly when it comes to maintenance. At Southeast Turf, we understand how important residential upkeep is to homeowners. A significant part of this upkeep includes the backyard. During the fall and winter seasons especially, this can prove to be more challenging. That is why we are here to provide specific tips for the best fall and winter backyards:
Artificial turf – Residential lawns with artificial turf landscaping have an advantage over natural lawns, especially during these cooler seasons. For instance, proprietors maintain a lush, green lawn all winter long without the worry of a frozen or withered yard.
Fire pits – We discussed fire pits in a previous post, and their coziness is still just as essential here! Fire pits are an ideal way to add both decoration and warmth to a backyard during the fall and winter time. These can be store-bought or crafted by hand.
Jacuzzi – These warm hot tubs are perfect for friend and family gatherings. Hop in the massaging jets and watch as guests rave about the beauty of your backyard. Jacuzzis are an undeniably warm touch during the chillier parts of the year.
Winter plants – Despite the freezing temperatures, it is still possible to maintain a luscious backyard during the fall and winter. Specific plants that are winter friendly include conifers, holly, camellias, snowdrops, and more.
Lights – A simple way to brighten a wintry backyard is with lights. Consider lanterns, holiday lights, or candles. There are endless DIY projects as well as financially savvy options from discount stores. Illuminate the patio during a cool evening outdoors with these ideas.
As portrayed, despite the threats of snow and freezing weather, there are still ways to maintain a green, cozy, and entertaining backyard during the fall and winter. This is easily done with artificial turf, fire pits, Jacuzzis, winter plants, and lights. Additionally, these tips apply to any sized backyard. Homeowners show their pride in their home through continuous maintenance regardless of the size, location or style of the property. These tips are a proactive way to beat the winter and upkeep a beautiful backyard.
If you would like to take the first step to create your fall and winter backyard, please feel free to contact us today. At Southeast Turf, our purpose is to provide homeowners with the residential care that they want and deserve. So, be sure to give us a call at 704-997-8006!