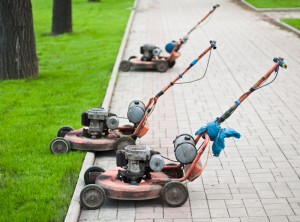 It's almost that time of year again! With summer comes more home maintenance and care. Are you someone who takes pride in their property and constantly works to uphold its aesthetic appeal? If so, you most likely want your property to look beautiful and well-kept all year long. Artificial turf is a great way to ensure that residential lawns stay healthy and green despite the hot and dry summer season. Southeast Turf helps by bringing luxurious products to Carolina residents, renovating homes one lawn at a time. In doing so, we enable proprietors to say goodbye to one significant factor: the frequently dreaded lawn mower.
With a synthetic lawn installation, homeowners no longer need to invest in or concern themselves with tiresome lawn mowing chores. Our artificial turf allows residents to part ways with this pesky piece of machinery entirely. When it comes down to the nitty-gritty, mowing the lawn comes with several annoyances, including the following:
Unnecessary (and exhausting) manual labor
Detailed and monotonous work (cleaning up twigs, sharpening blades, and so on)
More often than not, it also includes the use of a weed whacker to finish the job
Expensive to purchase and repair
Becomes a tediously time-consuming task
Loud and noisy, disrupting family members and neighbors
Wouldn't it be nice to maintain a flawless lawn without the above bothersome chores? Now you can. Whether gas or electric, trimmers are unnecessary products when it comes to faux turf. Rather than wasting time cutting the grass, homeowners can sit back, take a breath and relax. Your front and backyards become one less thing to worry about.
Rather than investing in lawn mowers, for instance, homeowners can spend their extra time and money with their loved ones, running errands, engaging in desired activities, etc.
If you want to part ways with your lawn mower, Southeast Turf can help. Please contact us today for your artificial turf installation and finally say goodbye to your grass cutter forever. Simplify household maintenance with synthetic turf, and watch yourself ease into a better state of mind at home.