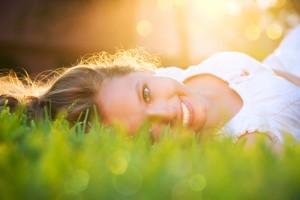 Synthetic grass has evolved greatly in the last ten years alone from rudimentary prototypes with abrasive infill in the 1990s to the modern, lush feel of natural-looking thatch and durable backing. Despite evidence to the contrary, naysayers believe synthetic grass is something to be feared and questioned. The reality is synthetic grass is a smart, family-friendly option that saves time and maintenance costs. Southeast Turf/SYNLawn® Carolina is here to dispel common myths surrounding synthetic grass and how to incorporate it into your life.
Myth: Synthetic grass is not practical because I have a pet.
Fact: Southeast Turf/SYNLawn® Carolina has special pet turf options that include customization and added safety features upon request. Grass drains at a rate of 30-inches per hour so you will never encounter standing water and your pets will never track mud inside. We can't imagine a more pet-friendly alternative!
Myth: Artificial grass gives golfers an unfair advantage.
Fact: While artificial grass maintains its lush, natural look and feel year-round, its ultimate purpose is to imitate real grass as closely as possible without all the maintenance. Southeast Turf/SYNLawn® Carolina's golf and putting green products feature consistent ball roll and natural slow-down characteristics players would experience on any golf course. While synthetic grass does not give golfers an unfair advantage, we like to think the ease of installation and consistent fiber texture does improve the quality of our clients' practice time, which could certainly make it seem like they have a few tricks up their sleeves.
Myth: Children are safer playing on real grass.
Fact: We adhere to the highest IPEMA safety standards and install soft padding under playground turf to protect children from falls of up to ten feet. Synthetic grass is hypoallergenic and our superior drainage rate of 30-inches per hour means your children will never slip and fall into standing water. Also remember synthetic grass will save your children (and your laundry) from mud and tough-to-clean grass stains.
Myth: Synthetic grass should only be installed outside.
Fact: Many clients choose to install synthetic grass inside, too. Courtyards, indoor putting greens, roofs, decks, and patios are all ideal places for a natural looking installation. Our corporate clients have chosen to create synthetic grass installations in malls or for product displays – the opportunities are endless!
Myth: Synthetic grass looks fake… everyone will know it's not real!
Fact: Sure, people will notice your yard looks full and green year-round (it wouldn't be much fun if they didn't), but recent advances in technology have allowed us to develop 100 percent nylon fibers for the most natural look and feel while preserving the durability synthetic grass is known for. Realistic thatch and sturdy backing materials make synthetic grass a functional, aesthetically pleasing option.
Myth: Synthetic grass is not environmentally-friendly.
Fact: SYNLawn® products are made using recycled and renewable materials and grass itself can be recycled after use. In the hot summer months, many families enjoy synthetic grass because it requires no water and allows for savings on monthly water bills. Some states even offer LEED points for water efficiency and recycled content, which would provide additional savings. That's a smart decision that pays off!
There's no denying synthetic grass is an eco-friendly, pet and child-safe option the whole family can enjoy. With warmer weather comes barbecue season and an opportunity to gather loved ones at home to sip lemonade and chat in the backyard. This year, invite Southeast Turf/SYNLawn® Carolina to your gatherings and see how easy life can be! Call (704) 622-9256 or fill out our contact form for a free on-site consultation.