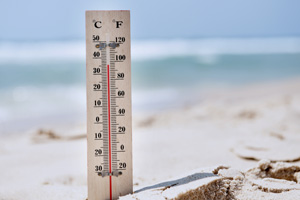 With summer comes longer days, extended amounts of blissful pool time, outdoor adventures and heat! While summer is a great time of the year for family and friends, it can also get extremely warm, and people should always take precautions whenever possible. One great way to help beat the heat this summer is with artificial grass.
Southeast Turf's products offer a cooler option for people at home. There are several different ways that our synthetic turf can help keep families feeling refreshed during the summer months!
Putting Green
We offer indoor putting greens so golf lovers can continue to practice their favorite sport without baking in the sun. This option means you can play in an air conditioned area in the comfort of your own home, and with easy access too! Rather than enduring the summer heat outside, an indoor putting green can help you improve your skills without breaking a sweat.
Patio
Transforming a cement patio into an area covered with artificial grass will help to protect the paws and feet of both pets and loved ones. Avoid burnt toes and heels with a synthetic turf installation; everyone will be grateful for a patch of faux grass when it comes to lounging around outdoors!
Roof
Synthetic grass products block exposure from the sun, so that your air conditioning system doesn't have to run as frequently. In a sense, a turf layer serves as a form of insulation for the residence; the sun's hot rays that might usually seep through the roof are obstructed by the artificial grass. By adding a faux lawn installation to a rooftop area, it helps to cover and protect the entire home.
Playground
Artificial turf playground products are cooler than the sand, rubber and gravel floor materials that kids tend to play on. When children fall, lay or sit on playground flooring, it is essential to ensure their comfort and wellbeing. A main concern during the summertime is that they do not burn themselves, and synthetic grass provides children with a cooler, cushioned surface.
Another significant factor to keep in mind is that artificial turf helps conserve residential water usage so that, during the summer, the more money that is saved, the better it is for your wallet! Since faux turf does not require the same levels of care and maintenance as natural grass, it not only cuts down on water bills and saves you money but also allows families to conserve water or use it elsewhere, without worrying about eventually receiving an extravagant water bill.
If you would like to beat the heat this summer the easy way, we can help! At Southeast Turf, our synthetic lawn products are expertly designed to cater to the different seasons of the year. So, stay cool during these warmer months with artificial turf.