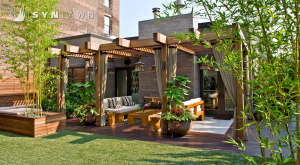 Living in urban areas can unfortunately mean less of a living space; however, SYNLawn® can make it so you can transform your deck, patio or even rooftop into the beautiful outdoor living area you have always wanted. Southeast Turf's synthetic grass provides a longer lasting alternative to wood or concrete deck tiles while requiring less maintenance.
Southeast Turf offers artificial turf for:
Roof decks – There will never be a need for staining or weather proofing. Cost effective alternative to traditional decking methods
Patios and terraces – Aesthetically pleasing compared to concrete and feel much more comfortable
Commercial Roofs – Provide a comfortable rooftop that will maintain a perfect look all year long with little maintenance
Using SYNLawn® SYNBermuda Premium 200, you can assure that your deck, patio or rooftop will be safe since SYNLawn® combines HeatBlock Technology and its EnviroLoc backing to lower surface temperatures of its artificial grass. SYNBermuda Premium 200 is the only infill-free artificial lawn product labeled "fire safe" for the installation of indoor and outdoor settings. This is due to SYNBermuda Premium 200 being made of an innovative fire safe nylon.
With SYNLawn's HeatBlock technology, this artificial turf is ideal for high foot traffic areas and will keep your deck, patio or rooftop cool throughout the warmer months. Other advantages include:
Environmentally conscious – You can have a green patio while conserving water and there is no need to stain or weather guard; which can release toxic fumes into the air
Recreation – Added living space for the children to play on. SYNBermuda Premium 200 is made for constant traffic and is safe for children's playgrounds as well
Pets – Artificial grass systems are perfect for patios to help keep pets clean, free from any disease or pesticides that may be in real grass and away from pesky insects like fleas and ticks. Not to mention you won't have to worry about your pets bringing in mud!
Lighter Material – For buildings where weight is a crucial factor, Southeast Turf provides the perfect lightweight alternative to other roof deck materials.
At Southeast Turf we use only quality synthetic materials. SYNBermuda Premium 200 is not only ideal for areas that have heavy foot traffic; we also back our product with a 12 year warranty that is guaranteed to last. If you are interested in a free on-site consultation, contact Southeast Turf or give us a call at (704) 622 – 9256 today!