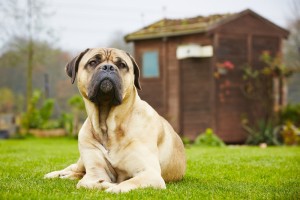 Dogs are the world's foremost lawn connoisseurs, which is why their approval is so important when selecting a new look for your yard. Your dog needs a soft, durable place to bask in the sun and chase a tennis ball after a long day of napping. It's time to spoil the most important member of your family with the natural look and feel of Southeast Turf / Synlawn Carolina's pet turf products.
Health. Artificial grass from Southeast Turf / Synlawn Carolina is sanitary and naturally repels pests such as fleas and ticks. Additional bugs like mosquitoes can appear on regular grass after heavy rainfall due to standing water which often is not absorbed quickly enough. Our turf is designed for maximum drainage in the case of a rainstorm so water never sits in your yard. Both you and your dog will jump for joy to discover a healthy new lifestyle.
Exercise. Patchy backyards and pitted terrain can prevent families from spending time outside. With the natural look and feel of pet turf, everyone can enjoy afternoons in the sunshine. Install a dog run or set up an obstacle course to prepare your pet for a local dog show. Expect smiles, glistening fur, and increased energy after installation of your new artificial grass.
Clean carpets. Artificial turf means less mess to clean up on those rainy spring days. Pet turf responds differently to weather than real grass; superior drainage techniques eliminate the problem of dirt, so your dog can frolic outside no matter what the weather. Never be afraid to let the dog out again: those paws will stay clean!
More playtime. Regular grass is labor-intensive and requires constant mowing, weeding, edging, and seeding. Artificial grass is more than an environmentally-friendly option; it's a way to reclaim your life and take back countless hours otherwise spent on yardwork. Fido agrees: this is the perfect time for a game of fetch on your lush new lawn.
Custom Options. One size does not fit all when it comes to selecting the right pet turf for your furry friend. Our artificial grass experts will consider the size, breed, and activity level of your dog before making a recommendation to ensure durability. Is your dog the neighborhood Houdini? We offer added security options to make sure your pet remains safely at home and off the streets. Additional warranty and upgrade options are available.
Beauty. Pet turf is selected not only for its durability, but also for its natural look and feel. Unlike regular grass, urine does not stain artificial grass. Our EnviroLoc Backing Technology creates a resilient surface that deters digging and keeps your lawn free of holes, discoloration, or weeds. Even your four legged friend will appreciate our lasting quality of pet turf.
The family that plays together stays together… even if the game you're playing is fetch! Give the whole family a gift they can appreciate year-round with a lush, low-maintenance yard. Dogs love the natural feel and luxurious comfort of our scientifically tested grass fibers and you'll love how clean and easy your new yard is! Review our pet turf options today and work with a specialist to determine the best pet turf options for your yard.