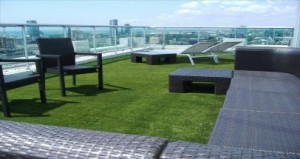 When it comes to artificial grass instillations, Southeast Turf thrives on creativity. If you want to jazz up your home, we encourage you to add some extra green! This enhances both the color and warmth of any living space; artificial grass goes a long way in increasing a home's value. Locations such as the roof, deck or patio are nontraditional places for artificial turf that instantly promote a house's look. It pays off to think outside of the box when modeling and designing. Do not simply stick to the front lawn and backyard for a chance to create an outdoor feel! Expand your options by following these ideas for some tips.
Roof – This is a popular place for families and friends to hang out and gather after a long day's work or a hot summer afternoon. Rooftops offer a beautiful view of theCarolinaskies and a quiet place to converse and socialize. To make it more enjoyable, adding soft turf creates the perfect cushion for rooftop lounging.
Deck – Installing synthetic turf to your deck will add a touch of surprise and beauty. This creates a great place for pets to safely roam while expanding the home's living area. There is also no need to worry about your dog damaging the grass, as we offer pet turf which ensures the resistance of urine spots, holes and more. The green will add a pop of color that most other deck materials, such as wood, do not offer. It also provides a strong base for chairs, hammocks and other outdoor furniture.
Patio – If you have children, they are bound to want a play area. Artificial turf on the patio provides a safe place for them to roam. This also creates more of a welcoming atmosphere than what concrete has to offer. A patio, much like the roof, is a hot social spot. Adding a touch of color that you do not have to maintain livens up the place, instantly refining a house's quality!
Artificial turf saves you the time and effort needed to maintain real vegetation. These resourceful ideas allow you to install grass in places it would never naturally grow. We bring the beauty of a manicured lawn to any home's flat surfaces, creating a sense of energy on roofs, decks and patios. Check out our free samples to get started on your artificial turf instillation today, and watch your home grow!