The team from SYNLawn Carolina has awesome news to share regarding artificial grass awards and our services in the Carolinas. At the recent year end 2022 SYNLawn Conference in Costa Rica, our team was recognized with seven prestigious awards related to our artificial grass services, overall performance, leadership, and positive impact on our community. We are proud to share the details of what each of these notable awards means to us and what they mean to our customers who benefit from our award-winning artificial grass services.
Outstanding Sales Achievement: Largest Project
As the premier artificial grass company serving the Carolinas, our team was contacted to become part of the Ballantyne Reimagined Phase 1A Project. This massive project consisted of us installing two event lawns, a community hammock space, a playground, and three multi-use lawns. It is one of our biggest projects to date, and as a result, the team here at SYNLawn Carolina was recognized at the December 2022 SYNLawn Conference with an Award for Outstanding Sales Achievement for being part of the largest project of the year.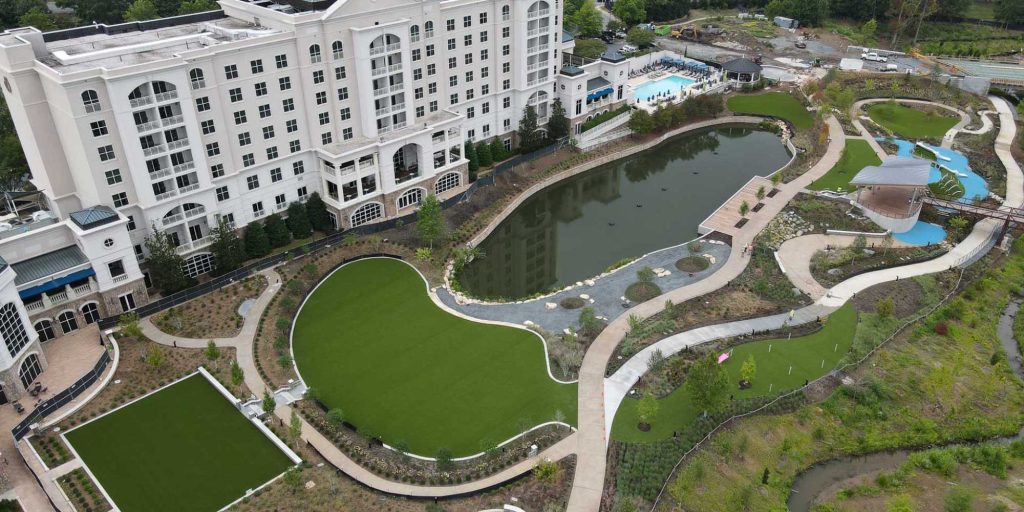 Outstanding Sales Achievement: Community Impact Award
Giving back to the communities we serve and those around us is an essential part of our values here at SYNLawn Carolina. Often during our artificial grass projects, we end up with some unused pieces of our synthetic turf products, including leftovers of our pet turf and putting green grass. Rather than throwing them away, our team found a beneficial ongoing use for them, which has evolved into a rewarding mission of ours.
2022 marks our fifth year of partnering with St. Marks Lutheran Church in Mooresville, NC and Living Waters Church in Cherokee, NC. Through this partnership, our unused pieces and patches of artificial grass are donated to the Native American Eastern Band of Cherokee Indians. At nearly every job, our crew members will collect pieces of leftover turf, trim them, and neatly stack them to be given to the Indigenous Eastern Band of Cherokee Indians.
Once received, members of the Native American Eastern Band of Cherokee Indians utilize our artificial turf for a variety of ingenuitive projects. Some examples include insulation in walls, carpeting for floors, carpeting over dirt pathways, insulating blankets for warmth, and even some small homes made from repurposed pallets and our turf.
While many artificial grass companies simply throw out their unused turf, the team here at SYNLawn Carolina collects and donates our leftovers to organizations in need, so they can creatively repurpose them.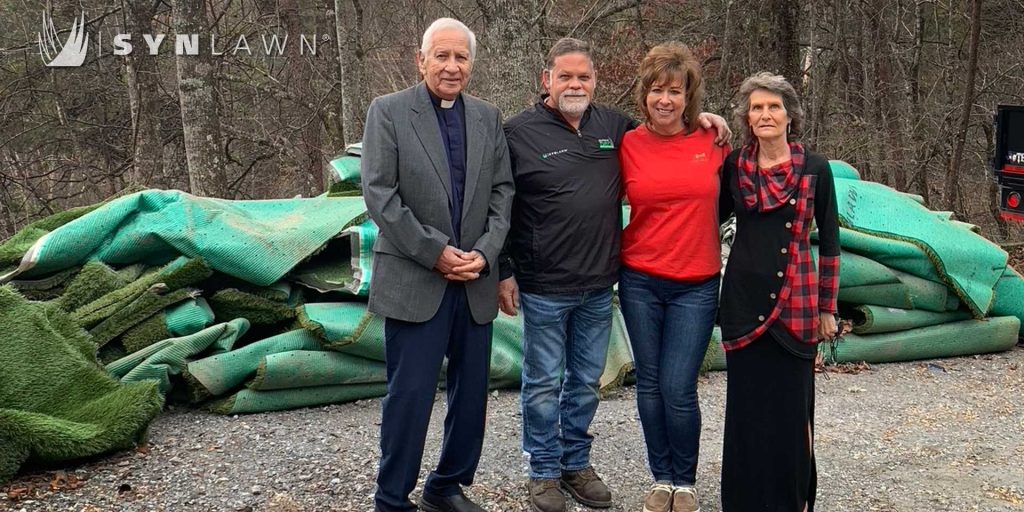 Brand Leadership: Scott Marks
Representing the SYNLawn brand, as well as our own at SYNLawn Carolina, is one of the greatest responsibilities our team members hold. And no one better illustrates this than Scott Marks.
In 2012, Scott entered the artificial grass industry, changing the trajectory of his life as well as our brand. He began with a single truck, trailer, and mission: to provide home and business owners in the Carolinas with an honest, dedicated artificial grass installer that always puts quality over quantity and honesty over monetary gain.
Now, ten years later, Scott Marks continues to embody these values, which has helped us at SYNLawn Carolina maintain that focus of being the honest, dedicated artificial grass installer serving North and South Carolina. As a result, he was recognized at the 2022 SYNLawn Conference with the Award for Brand Leadership, which he absolutely deserves for his steadfast commitment to our company, our products, and his mission – that has since evolved to also become our mission.
Outstanding Performance: Marketing, Installations, & Customer Service
At the 2022 SYNLawn Conference, our team was also recognized for many aspects of our artificial grass services. We received an award for outstanding performance in each of the following categories: marketing, installations, and customer service.
These artificial grass awards thrilled our team not only for recognizing our excellent work across the Carolinas but also for recognizing Scott Marks' mission. In being recognized for our outstanding work in marketing, artificial turf installations, and customer service, our team has shown that embracing Scott's mission to maintain our endeavor to continue to be an honest, dedicated synthetic grass installer has allowed us to become one of the best in the industry. It also helped lead us to be recognized for two more incredible awards.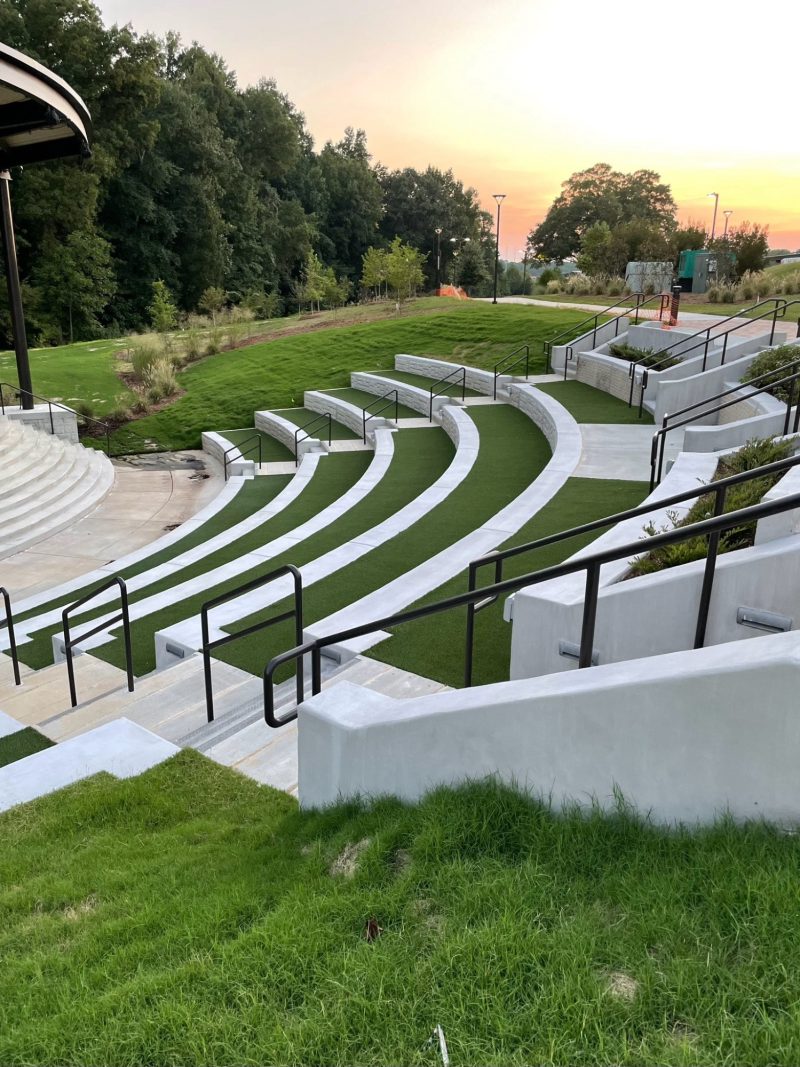 Sales Leadership Award: Platinum 2022
Last but certainly not least, the team from SYNLawn Carolina was recognized at the 2022 SYNLawn conference for our leadership in sales. Of the 120+ SYNLawn distributors serving communities across the United States and beyond, our team is ranked within the top ten! As such, we were recognized with the Platinum Sales Leadership Award, making us not only one of the best artificial grass companies serving the Carolinas but one of the best artificial grass companies in the industry itself.
Take a look at our gallery to see some of our many incredible installations!
Get a Quote for Our Award-Winning Artificial Grass Services Today!
For our customers and clients in the Carolinas, our status as a multi-award-winning artificial grass company allows us to continue our industry-leading work, providing the top-quality turf installations you need to improve your grass surfaces. Our team is committed to working with you for all your artificial grass needs, and we are happy to be recognized for it. We look forward to continuing our mission to provide honest, dedicated artificial grass services.
For more information on our artificial turf services in North and South Carolina, contact us today!