One effective way to enhance your business's exterior aesthetics in Charlotte, NC, is by using commercial artificial grass products and services from SYNLawn North Carolina. In the world of business, first impressions matter, and your curb appeal plays a crucial role in creating a positive initial impact on your customers. Below, we will explore the benefits of using our artificial turf for commercial properties and how our team can help you achieve a stunning transformation to help improve your landscaping and overall curb appeal:
The Power of Curb Appeal
Curb appeal is not just a buzzword; it is a critical aspect of your business's overall branding and success. It encompasses everything from the exterior landscaping to the overall cleanliness and attractiveness of your commercial property. A well-maintained and inviting exterior can help draw potential customers in, making them more likely to engage with your business. It can also assist in ensuring you have repeat customers who will want to return to your business not only for your products or services but for the atmosphere you offer.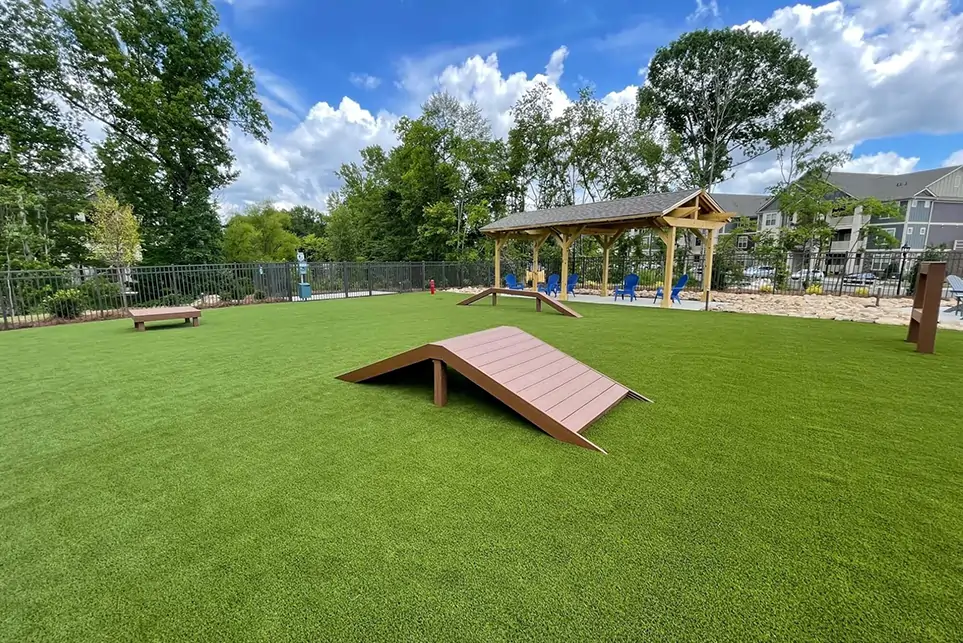 Why Choose Artificial Grass for Your Commercial Property in Charlotte, North Carolina?
Commercial artificial grass from SYNLawn North Carolina is a versatile and cost-effective solution for enhancing curb appeal. Here are some compelling reasons why businesses in Charlotte and other North Carolina communities are increasingly turning to our synthetic turf:
Low Maintenance
One of the most significant advantages of commercial artificial turf is its minimal maintenance requirements. Unlike conventional grass, which needs regular mowing, watering, and fertilizing, our artificial alternative only requires occasional cleaning to look its best. This not only saves you time but also reduces ongoing maintenance costs.
Year-Round Greenery
Regardless of the season, our commercial synthetic grass remains lush and green. As a result, your business property will always look inviting, even during the driest summer or coldest winter months. This consistency in appearance can help maintain a positive image for your business year-round.
Versatility
Commercial artificial grass can be used in a variety of ways to enhance your commercial property. Whether you want to create a welcoming front entrance, a vibrant outdoor seating area, or a putting green for employees to enjoy during breaks, our commercial artificial turf can be tailored to meet your specific needs.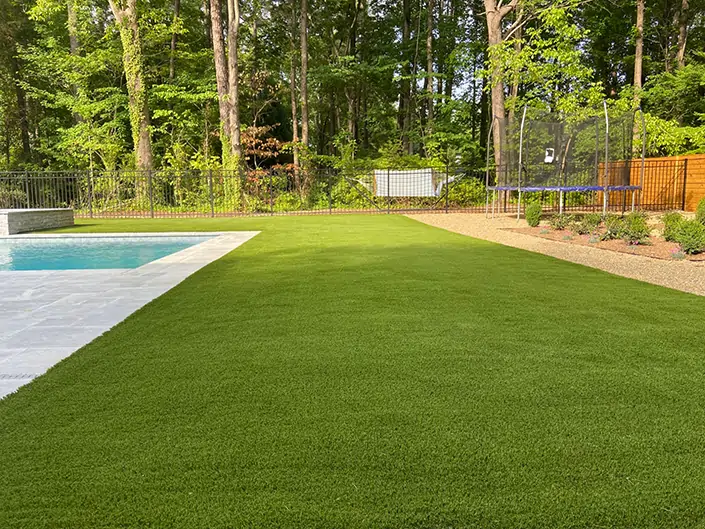 Water Conservation
In many regions, water conservation is a top priority. Fortunately, our artificial turf does not require any watering, which helps conserve this precious resource and helps lower your water bills.
Durability
High-quality commercial artificial grass, such as the products offered by SYNLawn North Carolina, is built to withstand heavy foot traffic and the elements. It resists developing unsightly bald spots or mud puddles, assisting in ensuring your property always looks professional.
How SYNLawn North Carolina Can Help
SYNLawn North Carolina is a trusted provider of commercial artificial grass products and services, dedicated to helping businesses transform their curb appeal. The journey to a more inviting exterior begins with a consultation. Our experienced team will work closely with you to understand your business's unique needs and goals. We will also offer expert advice on the best artificial grass solutions for your property.
At SYNLawn North Carolina, we pride ourselves on offering top-quality synthetic grass products that are designed to withstand the rigors of commercial use. Our artificial turf is remarkably realistic, soft to the touch, and UV-resistant to maintain its vibrant green color for years. We also have a team of skilled installers who can help ensure that your new artificial grass is installed correctly, with attention to detail and precision.
Contact Us Today to Learn More About Redesigning Your Curb Appeal with Commercial Artificial Grass!
Enhancing your business's curb appeal in Charlotte, North Carolina, with commercial artificial grass from SYNLawn North Carolina is a smart investment that can yield significant returns. Not only does it create a welcoming and attractive exterior, but it also reduces maintenance costs and conserves resources. Whether you run a restaurant, retail store, office building, or any other type of business, the visual impact of artificial grass can help set you apart from the competition.
For more information, contact our team today!