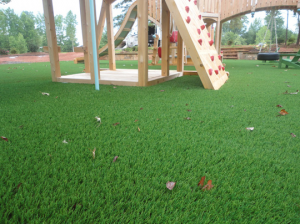 In a previous post, we discussed the many benefits of having a backyard playground constructed with artificial turf. With SYNLawn's various products of grass that are perfect for children on any type of play equipment, there are certain considerations that you must take before installing the product in your backyard:
The height of the equipment
Head Injury Criteria (HIC) requirements
The areas of high use or "TrampleZones"
Preference of grass product
The height of the equipment is determined by the highest possible fall a child could endure while playing on the equipment. When this possible height is determined, specific measures can be made to install foam padding protection. SYNLawn's quality padding prevents a child from injury from as high as 10 feet when using SYNBermuda Premium 200.
With more than 200,000 playground related injuries reported annually, child safety is one of our major concerns. That is why all of Southeast Turf's synthetic playground turf meets ASTM HIC requirements to ensure your child's safety and well-being. Children have accidents while playing, but turf that is HIC tested will reduce the chance of head injury significantly.
TrampleZones, or high traffic areas, are usually the areas directly around playground equipment that can see premature wear. Receiving a TrampleZone package upgrade ensures that the high traffic areas around the playground equipment can be replaced, rather than replacing the entire playground surface itself. Most commonly these areas include: under swings, around merry-go-rounds, beneath see-saws and the base of a slide. Typically, these are areas where natural grass would die, due to constant use.
Implementing an artificial playground surface in your backyard is also a great way to go green. With SYNLawn's EnviroLoc™ Backing System, the backings of all of our products are 60-70 percent green by weight. The artificial grass also saves money on water consumption, since roughly 30 percent of our water use goes to irrigating lawns, and as high as 70 percent in western states. It also helps reduce the carbon emissions and fuel consumption that everyday lawn equipment exhumes.
The final consideration is up to you! With a variety of playground grasses to choose from, you are free to choose which type you like most or which best suits your neighborhood. Southeast Turf will take care of building the perfect playground in your backyard with the best rated products. Please contact us today to schedule a free on-site consultation.