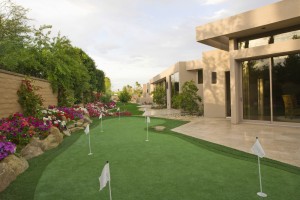 Every homeowner wants their property to stand out amongst the other homes throughout the neighborhood. One way to do this is by personalizing the entire home to fit the residents' interests, preferences, and design ideas. At Southeast Turf, we know just how far these subtle touches can go. That is why we are here with a few tips on how to personalize your backyard with artificial grass! Whether this is your first home, a rental, or your dream house, here are some ideas:
Athletics
If your home enjoys sports, consider adding equipment that feeds into this hobby. We specifically offer putting greens. This brings the golf course right to your own backyard. Not only is this ideal for those who want to practice putting more often, but it also adds an element of beauty to the backyard. Putting greens can be custom designed to fit the owner's desires. Whether you want a portable mat, DIY putting green, or turf fairway, we will accommodate. This will transform an ordinary yard into an impressive area for social gatherings. Other athletic installations might include a basketball court, volleyball net, or trampoline. Take the time to deliberate and decide which installation would benefit your home the most.
Design
Spice up your backyard with a distinct design. Whether you have a garden, water feature, cabana, etc., construct something that is unique to you as a homeowner. For example, if you want a yard that is half artificial grass and half rock, that can be done. Or perhaps you want a checkered patio with synthetic turf. That is our specialty! We will bring the checkerboard to life on your patio. Whatever the design may be, the more unique, the better. Perhaps you want a walkway made of brick, stone, logs, or gravel. This can be designed with any pattern and varying accent features including lighting, vegetation, water, and so on. Our goal at Southeast Turf is to supply artificial grass that can fit and mold to any of these designs.
Activities
When it comes to backyard entertainment, it is important to have certain activities ready for whenever guests are over. These features can be built directly into the backyard. Ideally, aim for activities that are fit for the entire family. From elders to children, it is important to create the backyard that personally fits your household best. For instance, for those who have little ones, a playground is a great option. Our playground turf installations are built to prevent injury if one falls on the playground set. Playgrounds are a fun way to liven up a backyard and bring everyone together. Other backyard activity ideas include the following:
Swimming pool/ Jacuzzi
Sandbox
Bar
Fire pit
Ping pong table/ pool table
Rock climbing wall
Outdoor movie theater
When it comes to your house, you should feel completely at home and in your own element. This means taking the time to personalize the inside and outside with care. Whether you choose to install a putting green, detailed walkway, playground, water feature, or fire pit, we can help with the artificial turf! Call our experts at 704-997-8006 for more information.