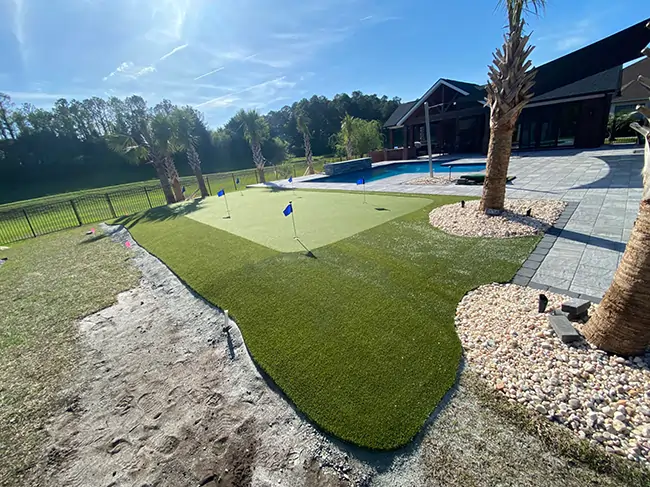 Golf experts agree that putting makes up about 50 percent of your overall score; and improving your putting is the best method to improve your score. The best way to improve any skill is to practice. With a backyard putting green from Southeast Turf, you will be able to practice your putting on a regular basis.
Most 18-hole golf courses have a par of 72. Par is how many strokes a highly-skilled player takes to get the ball to the hole. It is determined by the length of the hole plus two putts. That makes the par for putting 36, which makes it half of the total par. This is the reason that putting is often described as the game within the game.
Golf instructors recommend that you keep track of how many putts you take on every hole, as well as the total number of putts for every game. Keeping a history of your putts will show your improvement over time. Improvement will happen much more quickly when you focus on putting, whereas the full swing is much more complex and lacks the outcome control of putting. This fact is brought into sharp relief when you look at professional golfers, who usually score right under or around par. These golfers only manage to hit the green with their full swing two-thirds of the time, so most of their scores are a result of an excellent short game.
If you are a serious golfer, you have probably considered installing a practice green in your yard. You may have considered installing a natural grass green, but were put off by the extremely high maintenance required – you would need a special mower and to keep the suggested height of one-quarter inch, you would have to mow between three and seven times a week. You would spend all of your practice time maintaining your green!
A Southeast Turf putting green is very low maintenance. Our greens use SYNLawn® products, which were created with the input of golf legend and respected instructor Dave Pelz. Our greens give you the realistic look, feel and play of the course greens so you can practice at home and see your results on the green. Our golf related products include:
Practice golf greens
Custom design and installation
Commercial tee lines
DIY putting greens
Portable mats and greens
Turf for fairways, roughs and fringes and collars
Precision installation services provided by certified SYNLawn® Greensmaster™ professionals
Contact us today for your free on-site consultation.