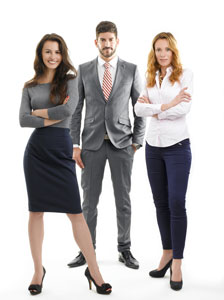 Are you looking for new ways to improve your business this year? Artificial grass just might be the answer. At Southeast Turf, we offer commercial applications for companies who are interested in reviving their look, morale, and overall wellbeing. There are several ways in which a business can be improved with artificial turf, including the following:
Curb appeal – The outside appearance of a business greatly determines what clientele will think of the company. This is especially true for a client's first impression when they initially visit the business. By installing synthetic lawns, it is guaranteed that the front of the company will always be accompanied with lush, green turf. This makes the business pop with color and livelihood. Even in the harsh winter months when other nearby companies (and competitors) face the damaging effects of freezing temperatures, with artificial grass, clients will always be welcomed to the company by a fresh and healthy lawn. This shows the business' dedication to overall appearance and professionalism, upping the curb appeal and likelihood of a client's return.
Employee morale – If the morale of the employees has taken a hit, then it is time to reenergize the business. When your staff is unmotivated or dissatisfied with their place of employment, their work ethic begins to decline. There are several ways to encourage employee morale; our favorite way is with an indoor putting green! Set up one (or two) indoor putting greens for personnel to practice with during breaks. This can also serve as a team building activity. A putting green adds a change of pace to the office. It also shows that the company is truly interested in the happiness of its workers, and wants everyone to enjoy their time at work. This artificial turf application gets employees moving, initiates healthy competition, and creates a fun work atmosphere.
Conservation – In a business, it is essential to save money wherever possible. That is where artificial turf comes into play. A company's water bill will decrease significantly when they partner with Southeast Turf as there is no watering when it comes to artificial grass. The business will also save by not having to mow or fertilize, which means there will be less maintenance that needs to be done. The time and money that used to be spent on this upkeep can now be invested elsewhere.
Creates more space – Ever wanted to utilize that balcony or the roof top of your company's building? Artificial turf is an ideal way to do so. Spaces like these can be transformed with our products. When artificial grass is installed on the roof for instance, it then becomes a place for employees to gather during a meeting for fresh air. It also offers another location for employees to simply take a break during the work day. An entire area is renovated with artificial turf as it makes a space more livable and inviting.
As illustrated, there are several ways in which synthetic grass can help a business grow. Whether from a desire to improve the company's physical presentation, the wellbeing of its employees, ways in which the company can save money, or creating more space, artificial turf is the answer. If you would like to take that next step for your company, be sure to give us a call at 704-997-8006 and contact us today.