The average homeowner is looking for ways to simplify their life and the beautiful aesthetic of an artificial lawn is a welcome addition to any front yard or backyard.
When our clients come to us looking for an easy solution to resolve their traditional lawn woes and worries we are happy to help custom design and install a beautiful artificial grass lawn. Most of our clients are working full time, and managing a household; and the constant drain that traditional lawns demand in both time and money is exhausting.
Beautiful Landscaping
With a custom designed and professionally installed artificial grass lawn your landscaping is on point day after day, week after week, year after year. It's like having a professional landscaper on duty but without the hassle and full self reliance that comes with not having to worry about the weather or the seasonal changes. Your lawn simply looks stellar year round. There is a saying about fix it once and forget it. Well you get to do that with a synthetic lawn. You also get to enjoy how great it looks and feels.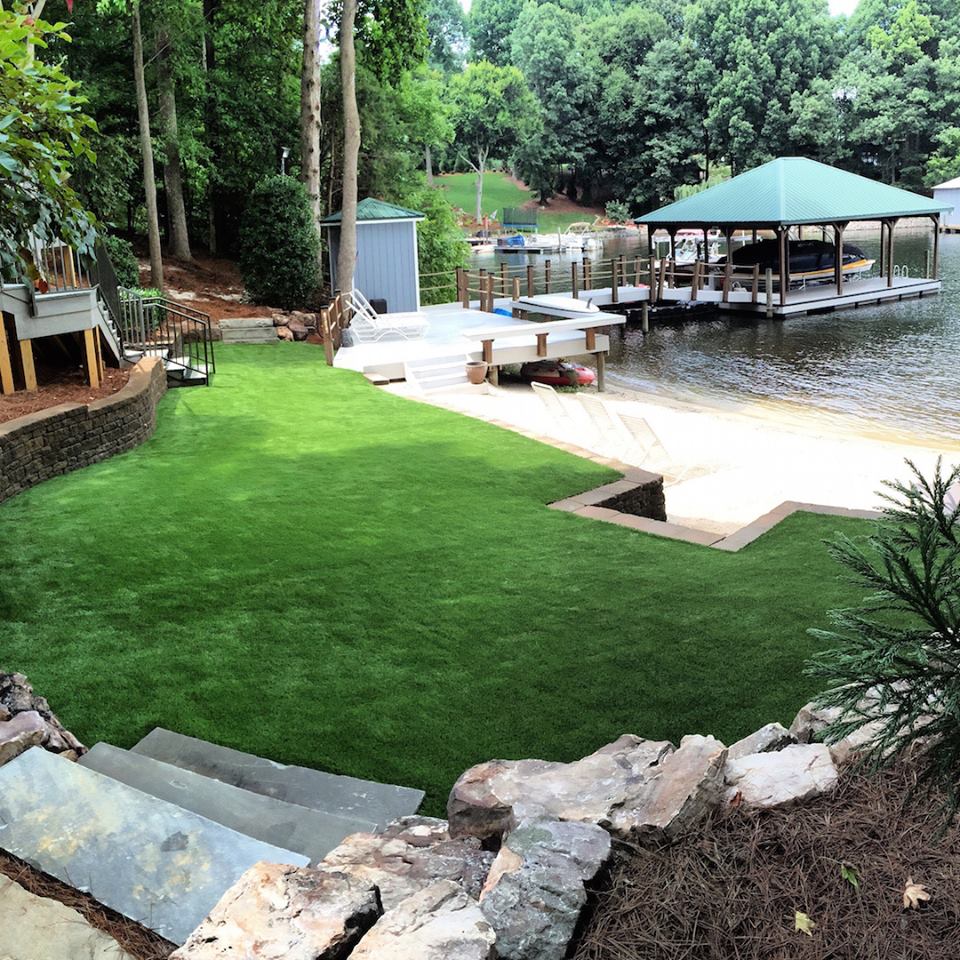 Little to no Maintenance
There isn't anything to do for lawn maintenance with an artificial turf we say little to no maintenance because you don't need to maintain the lawn but you might have to pick up anything that blows in from outside. You can also rinse it occasionally if any dust seems to have blown in. But that is really it. It's that simple.
Reduction in allergens
Since there is no weeds, pollen, seeds, and allergens are greatly reduced. Sensitive noses and sensitive skin is better protected with an artificial grass lawn in your backyard. The synthetic lawns don't suffer from those allergens that are common with traditional lawns, as such artificial grass is perfect for playgrounds and pet and dog areas.
Better for the environment
Our artificial turf lawns are fully recyclable and are better for the environment since they are not requiring the use of pesticides, fungicides, herbicides, fertilizers nor fossil fuels to operate fuel powered lawn equipment. Also, you conserve water since the artificial grass lawn doesn't require constant upkeep and watering to keep looking lush day after day.
Save time AND money
Simply put an artificial lawn gives you the look and feel of real grass without all of the hassles that are found with sod lawns. You save time because you are no longer tethered to the chores that natural grass requires of you.
The constant upkeep of a sod lawn requires frequent purchases of chemicals, fertilizers, pest control and weed control. This is not the case with artificial grass lawns, they hold their beautiful green color year round, and they always look well maintained with little to no maintenance required.
Get a free consultation with a design expert!
If it's time for you to simplify your life and your front and backyard with a beautiful artificial grass lawn from SYNLawn Carolinas. Then give us a call at 704-997-8006 or send us an email to schedule a free consultation. Our friendly team of professionals are ready to help you custom design a synthetic lawn that will look great year round, and save your time and energy for the more important things in life.