SYNLawn North Carolina is a proud provider of high-quality artificial playground grass that can help make playgrounds safer in Charlotte, NC – even in your own backyard. Our synthetic playground turf provides residential outdoor spaces like playgrounds with a number of benefits. It is ultra-realistic, low maintenance, cushioned, easy to clean, hypoallergenic, and stays cool. So if you want to create a safer backyard playground for your home in Charlotte, check out the superior playground turf available from us at SYNLawn North Carolina.
Why Install Artificial Turf for a Playground?
There are several crucial reasons why residents of Charlotte and other North Carolina communities should consider artificial turf from SYNLawn North Carolina for their home's playground or play area. Some of these many reasons include:
Ultra-Realistic
All of the artificial grass products from SYNLawn North Carolina are incredibly realistic. They look and feel just like traditional grass. Best of all, our synthetic turf products do not have many of the same pitfalls as conventional grass does.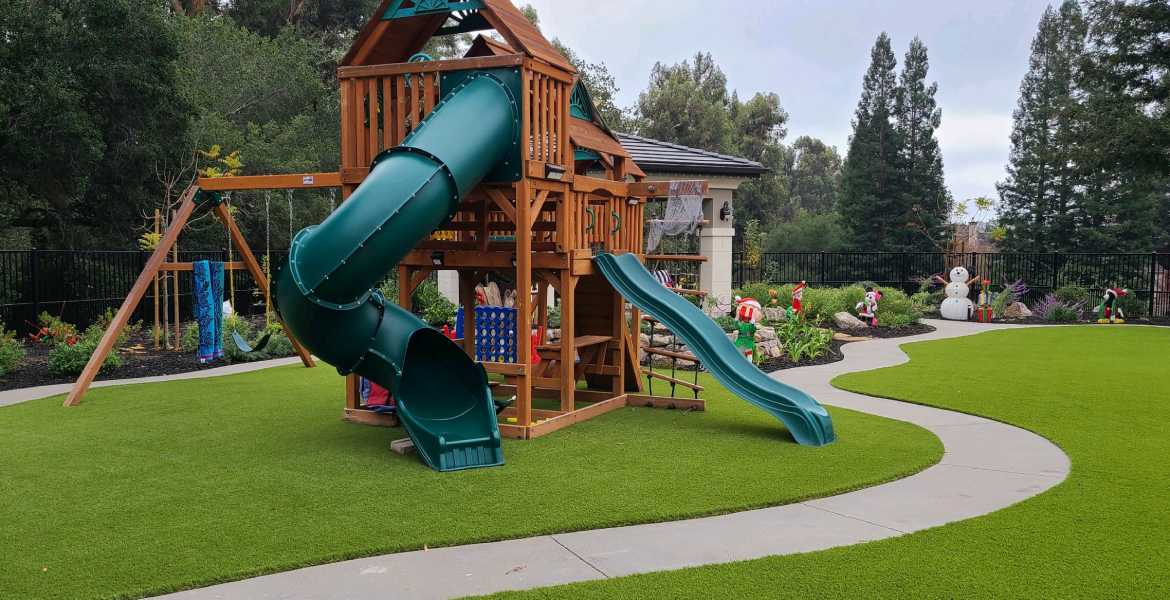 Low Maintenance
With synthetic playground grass, no lawn maintenance equipment is necessary. So you can say goodbye to your lawnmower, edger, fertilizer, and pesticides! Our high-quality artificial turf is easy to care for and requires no watering, mowing, seeding, or fertilizing. As a result, you can spend more time with your children while they enjoy your backyard playground and artificial playground turf.
Extra Cushioning
At SYNLawn North Carolina, our artificial playground grass is a safer surfacing material for your kids to play on than dirt or a grass lawn. This is primarily because our artificial turf is equipped with extra padding, which provides a soft cushion for kids' hands, knees, and elbows in the event of falls during playtime.
Easy to Clean
Unlike traditional grass, wood chips, or sand, artificial playground turf is easy to clean and keep clean. Our superior synthetic turf is built to quickly and efficiently drain water. As a result, parents can simply hose down our artificial playground grass with water to help clean it and keep it clean for their children to enjoy.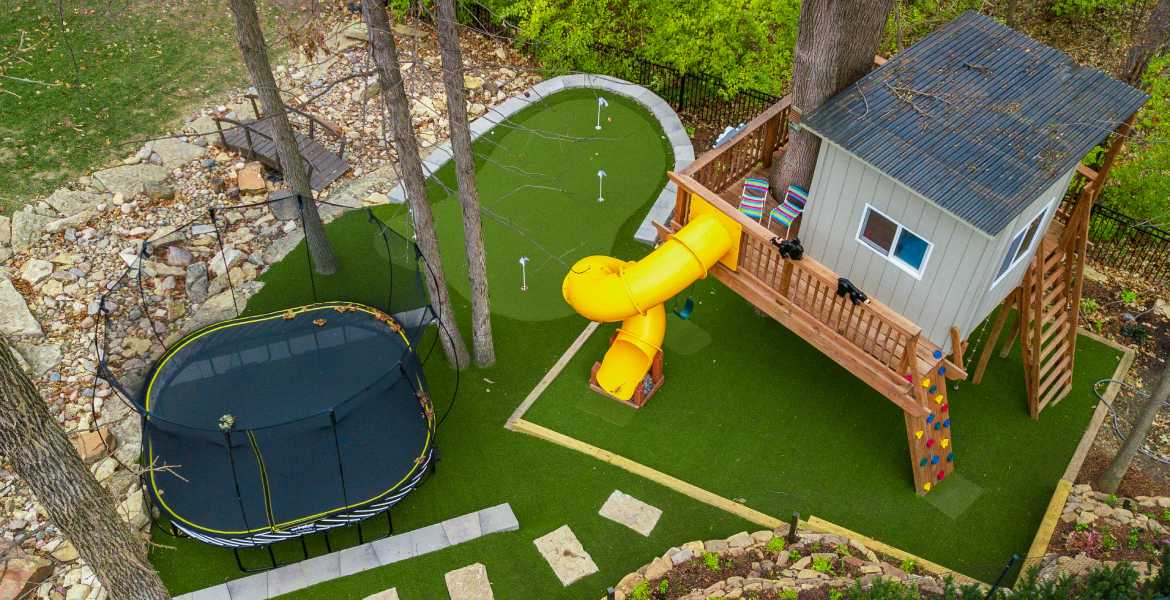 Hypoallergenic
Synthetic playground turf from SYNLawn North Carolina is hypoallergenic. Our artificial turf is made with no toxins or harmful chemicals. It also does not produce grass allergens, which helps make it a safer and healthier surface for children with allergies to play on.
Stays Cool
The summer weather in Charlotte, North Carolina can provide an abundance of warmth during the day. Unfortunately, many surfaces, such as sand, concrete, and more, will soak up and retain this warmth. In some cases, these heated surfaces can burn bare skin. Thankfully, our high-quality artificial playground grass possesses heat reduction technology that helps it stay cool – even in consistent sunshine. This helps make our synthetic turf safer for children to touch with their hands or bare feet.
If You Imagine It, We Can Build It
Once you have decided that you want artificial turf for your backyard playground, the team at SYNLawn North Carolina can help you design an ideal space for your family to enjoy. Over the years, we have made wonderful playgrounds. If you would like to see some examples of our work and get inspiration, take a look through our gallery!
We have several different types of artificial grass for homes and playgrounds in Charlotte and other North Carolina communities. Our synthetic turf ranges from the short grass you might find on a football field or putting green to longer turf that mimics the greenest lawn in the neighborhood.
SYNLawn North Carolina is Ready to Help!
Artificial playground turf from SYNLawn North Carolina is an ideal surfacing material for backyard playgrounds in Charlotte, North Carolina. You want your kids to have a fun but safe time while playing outside, and we do too. Our synthetic playground grass can help! It is ultra-realistic, low maintenance, cushioned, easy to clean, hypoallergenic, and stays cool. As a result, it is a far safer and more beneficial surfacing alternative.
Contact us today to learn more about installing playground turf or schedule a free consultation!