Our commercial playground turf can be installed in many areas throughout Charlotte, NC, including:
City parks
Municipal grounds
Apartment complexes
Restaurants
Outdoor play areas
School playgrounds
Daycares
If you have available space, our team can outfit it with artificial playground turf! Check out our gallery to see some examples of our work!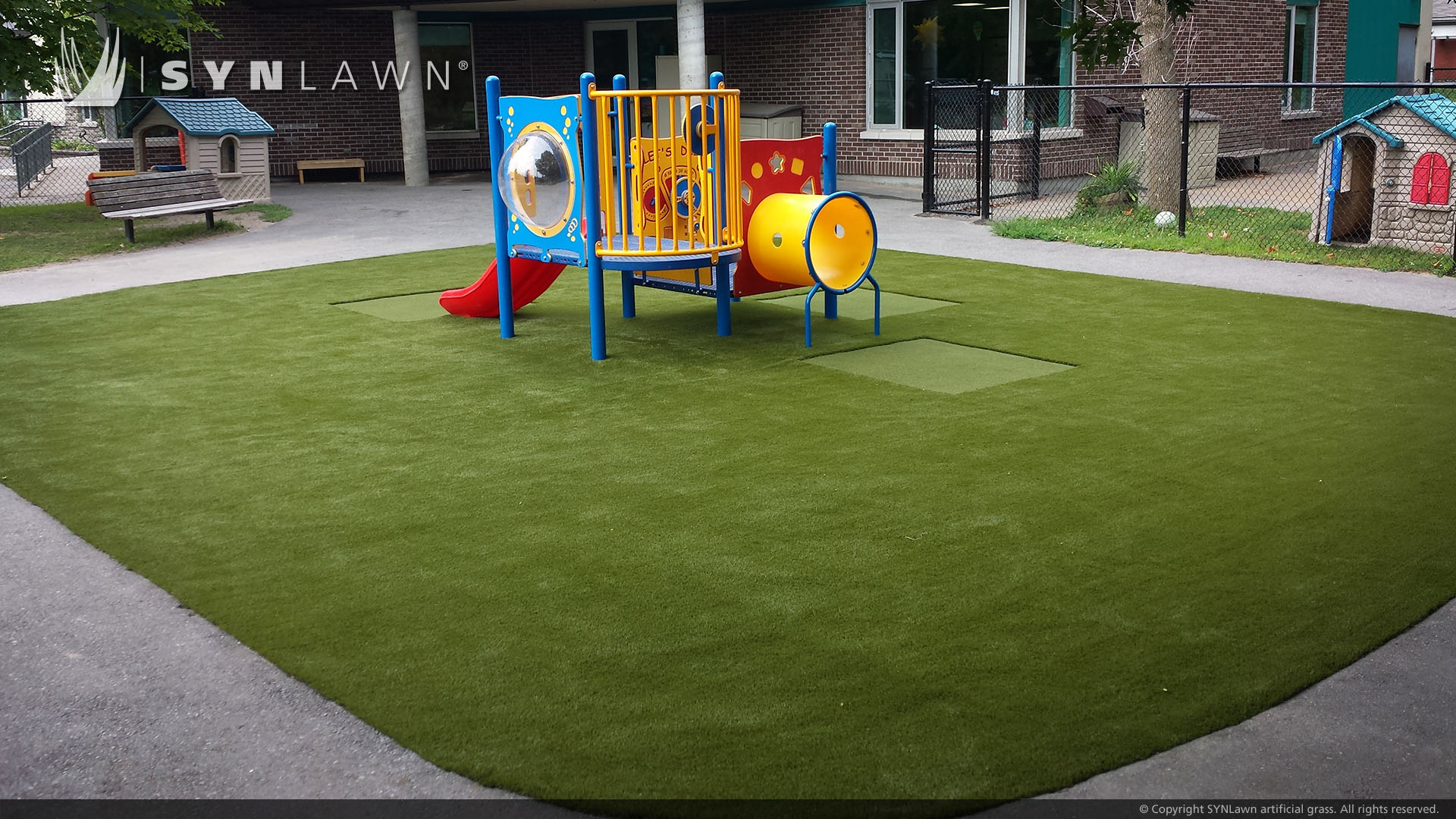 Commercial Playground Turf Benefits
Artificial grass for commercial playgrounds is an unbeatable surfacing solution. Our high-quality synthetic playground turf offers multiple advantages over other surfacing materials. Some of the top benefits of opting for our commercial artificial playground grass include:
Safer and More Comfortable
With our artificial playground turf, you can say goodbye to muddy playfields, grass stains, and more! At SYNLawn North Carolina, safety and comfort are the defining pillars of our synthetic turf products, especially our artificial playground grass. It is specifically designed and professionally installed not just to help make playtime more fun but also safer and more comfortable. As a result, our first-rate artificial grass for commercial playground surfaces provides optimal padding and a level surface, which can help prevent potentially serious injuries and trip hazards.
Durable and Low Maintenance
Imagine having a playground with turf that remains green and perfectly trimmed for years without requiring constant and expensive maintenance. At SYNLawn North Carolina, that is precisely what we can offer you with our artificial grass for commercial playground surfacing. Our synthetic grass is built to provide lasting appeal and functionality.
Our artificial playground grass is also incredibly low maintenance. With it installed, you can forget about watering, weeding, mowing, or rapid wear and tear. Our synthetic turf products do not need constant attention. Once we install our commercial playground turf, you have a ready-to-use play area that is easy to maintain, which helps save you money and time!
Attractive
Our commercial artificial playground turf is a safer and more durable surfacing solution. Yet, this does not mean it ever sacrifices on looks! All of our synthetic grass products are incredibly realistic, so they look and feel just like traditional grass. As a result, our lush, green turf is inviting for children to play on and can even help add overall appeal for parks, daycares, schools, commercial businesses, and more.