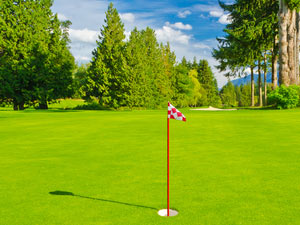 We all know that residents of the North and South Carolina enjoy a great lifestyle, and synthetic grass from Southeast Turf can help you enjoy that lifestyle even more.
From the cities and suburbs to the countryside, the Carolinas are certainly a place to enjoy the beautiful outdoors. Your free time to do that is limited, however, if you have to spend hours and hours doing yard work on spring and summer weekends.
Installing one of our high-quality artificial lawns will solve that problem! Imagine never having to mow again, because as realistic as our artificial turf looks, it will always remain the perfect height. You won't need to spend time or money watering, fertilizing or applying pesticides, either. You can spend more of your weekends just enjoying a worry-free yard that stays green throughout the year, while you stretch out with a cold drink. Or, you can get away from the house altogether, without being concerned that skipping your weekly mowing will let the grass grow out of control and draw complaints from the neighbors.
Artificial grass isn't just for lawns, however. Southeast Turf's supplier, SYNLawn®, manufactures a range of products for different uses. All of them are highly durable and natural-looking. If you're a golfer, we can install a synthetic putting green in your backyard that will give you an excellent surface to practice on any time you want. SYNLawn® golf turf was created in partnership with legendary short-game instructor Dave Pelz, who helped us develop artificial golf surfaces that mimic the real thing and provide natural ball-roll properties. Imagine having your own easy-to-care-for practice golf green that lets you build short-game skills that will translate directly on to natural-grass golf courses for lower scores.
Southeast Turf offers great artificial pet turf for dog runs and pet play areas, too. Our specialized pet turf has been installed both at residential homes and in city dog parks. It's durable to stand up to hard use by active dogs, and it's designed to prevent chewing and digging. Your pet area won't be turned to dirt or churned into mud, and it won't be turned brown or yellow by pet urine. A layer of zeolite crystals in our pet turf even reduces odors from pet waste. Perhaps best of all, synthetic grass doesn't provide a friendly habitat for pests such as fleas and ticks that can seriously harm your pet's health.
Southeast Turf also sells and installs synthetic grass playground systems that provide a comfortable, safe surface for children to have fun on. Our playground turf is perfect not only for homes but also for parks, schools and day care centers. With its special padding underlayment, our playground turf is softer and more yielding – and therefore safer – than materials like concrete, asphalt and gravel. It's also less messy than materials like crumb rubber, wood chips and sand, and it won't leave stains on clothes like natural grass.
In addition to taking the place of traditional grass, synthetic turf goes all sorts of places that real grass just can't go. It can be used to create green spaces on decks, rooftops and patios, and it can be installed in formerly unused places to make comfortable, aesthetically pleasing areas to gather, party and play. This is especially useful for multi-family housing complexes that want to provide public gathering places and need to maximize usable space.
Southeast Turf also installs rugged, high-quality synthetic turf for commercial applications such as office buildings, industrial parks, recreation facilities and just about anything else you can think of! Artificial turf is even used by municipalities to dress up traffic medians and in other public spaces where a cool, green surface that's easy on the eye is desired, but without the costly maintenance requirements of grass.
Southeast Turf LLC is the exclusive authorized distributor of SYNLawn® products in the Carolinas. Come to Southeast Turf when you need the best in synthetic grass for any purpose. Our professional designers can help you find a solution and determine which quality SYNLawn® product is right for you. Call us today at 704-997-8006.