Outfitting your Charlotte, NC backyard with a state of the art putting green is just the right thing to get you and your family outside into the fresh air. And if you are an avid golf player then you also get easy access to your own golfers paradise to work on your golf game and putting skills.
Thankfully, we are skilled in providing our clients with a yard to top all other yards. Call our friendly team of artificial grass experts and we will design a backyard that suits a variety of outdoor activities that can offer you, your family and friends some much-needed entertainment and enjoyment. One of these is playing in a backyard putting green. Or if golf isn't for everyone in your family SYNLawn Carolina can help you transform your backyard into a lush lawn oasis perfect for lounging, playgrounds, pet grass and more.
Here we will explore several different reasons why a backyard putting green or golf green is ideal for your backyard.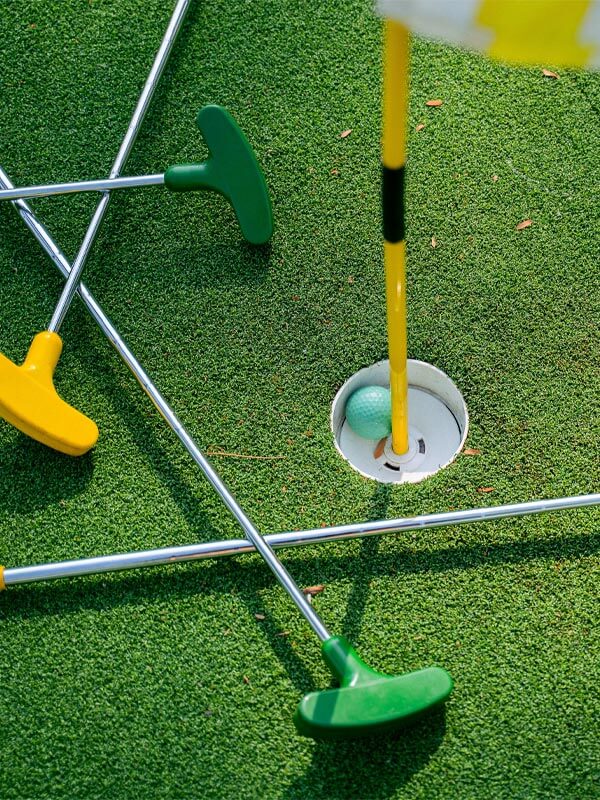 8 Reasons Why You Should Get a Golf Green
If you're a golf lover, you'd probably automatically say yes to the green. After all, what would be better than being able to sharpen your skills in your own backyard? Still, many people seem to think that synthetic grass greens are a luxury and they shouldn't invest in one. However, there are plenty of reasons why investing in a golf green could be the right choice for you:
Improve Your Short Game
If you're a golfer looking to enhance your skills, a backyard green could be the solution you've been searching for – especially after being cooped up inside without access to a golf course. Shrug off your rustiness and put in some practice so when you're ready to hit the course again, you'll be ready to impress.
Increase Your Home Value
Believe it or not, you can increase your home's value by installing a putting green. It can be an impressive selling point if your house is on the market, especially if you show your home to an avid golfer. It's certainly an attention-grabber that could make your home stand out from the rest.
Care-Free Maintenance
When you own a backyard golf green, lawn upkeep is a thing of the past. Turf is easy to own and love, as it requires no maintenance and always looks wonderful. You'll never have to water it, mow it, treat it with sprays or fertilizer, or trim it, which can save you a lot of time, effort, and money on water bills, lawn equipment, sprinkler systems, and treatment costs.
At-Home Entertainment
Spend Saturday morning or a Friday evening hanging out with your family and friends in your backyard and putting your synthetic golf green to use. You'll have endless fun playing in the great outdoors just steps from your back door. And the best part is you won't even have to leave your land to enjoy a round! All the good times can be had on your own private property.
Beautiful Appearance
No one wants a brown, dry, lifeless lawn. You don't have to settle for one! A synthetic grass golf green is bound to turn some heads in your neighborhood. Your yard will look lush and green every single day without you having to lift a finger. And it's as durable as it is beautiful, too! All you'll have to do is sit back, relax, and enjoy playing on your gorgeous green.
Reduce Stress
Many athletes and weekend warriors love sports because of their therapeutic nature. Golfing can be a great way to let off steam, enjoy nature, and reduce your stress from the day's work. When you're feeling overwhelmed, angry, sad, or anxious, you can always step outside and hit a few balls to improve your mood.
Personalize Your Green
You're in complete control of your green when you opt for a backyard putting green. You pick the size, hole placement, the difficulty level, and other design aspects to fit your individual preferences.
Save Gas Money
Many people fail to remember the amount of gas it can take to go to a golf course. You can save some decent money by practicing at your own house instead of traveling elsewhere.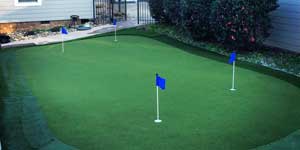 Invest in the Golf Green of Your Dreams
Are you interested in owning your own golf green? Whether you're a die-hard golf fanatic or simply a hobby golfer looking to learn the basics, you can reap the many benefits of synthetic golf turf. You'll enjoy hours of entertainment, and you won't even have to worry about the upkeep!
At SYNLawn, we offer professional and precise installation of beautiful and durable backyard artificial grass lawns or putting greens to fit any budget or preference. We offer an extensive inventory of artificial grass options for homeowners as well as commercial artificial turf, including:
Practice golf greens
Commercial tee lines
DIY putting greens
Travel-ready portable greens
Fairway, rough, fringe, and collar turf
And more!
Contact us today to schedule a free on-site consultation for your new backyard golf green. We can't wait to see how we can help make your golf dreams a reality!