Avoiding the unpredictable weather in Charlotte, NC while golfing is easier than ever with an indoor artificial putting green from SYNLawn North Carolina. The one downside to golf is that you typically need good weather for a thoroughly enjoyable game. Sometimes, the weather starts well, but then a rain shower begins right in the middle of your game. Fortunately, at SYNLawn North Carolina, our indoor golf greens take weather factors out of the game, providing you with a space for you to practice and play no matter what the weather is like.
Bring Your Golf Game Inside Anywhere
At SYNLawn North Carolina, our artificial turf designers eagerly work with our various clients to bring their golfing dreams to life. Whether at a business, sporting facility, office, or basement, our team can design and install an indoor putting green to fit your space. Our artificial indoor putting greens work like traditional golf course turf and help keep your golfing shots consistent, especially since they are free from outdoor elements in Charlotte and other North Carolina communities.
Consider adding an artificial indoor putting green to properties of all kinds, including:
Homes
Offices
Sports facilities
Shopping malls
Event venues
Restaurants
And others as well!

Once installed in any of these indoor settings, you are free to practice your short game without it being affected by the weather. So, go ahead, golf during a rainstorm! It won't stop you with one of our first-rate indoor putting greens!
Low Maintenance Golf Greens
One of the best parts about artificial grass putting greens from us at SYNLawn North Carolina is that you do not have to do much maintenance. Our synthetic golf grass never needs watering, trimming, or chemical treatments. So you can spend more time enjoying your indoor putting green – rather than caring for it.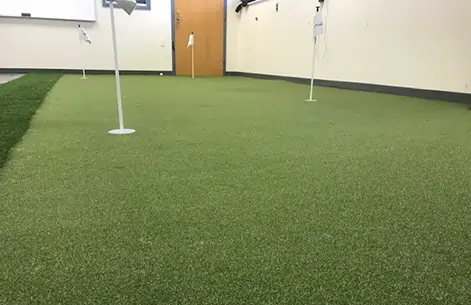 The only real maintenance our artificial golf greens require is occasional cleanings. But thankfully, since it will be installed indoors, cleanings will not need to be as frequent – since there is typically less dirt and debris inside. As a result, you can spend most of your time with your indoor putting green practicing and improving your short game.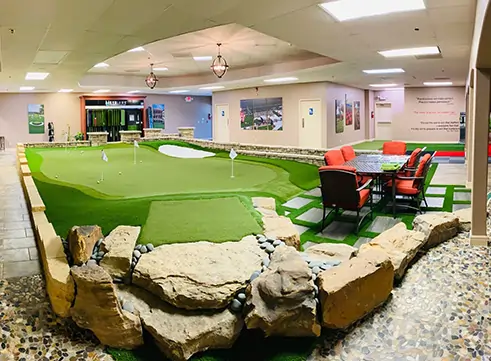 Our Artificial Golf Grass Allows Years of Play
Traditional golf grass can see a lot of foot traffic and intense use from golf clubs and golfing shoes. This can quickly wear it down, making it less playable than ideal. At SYNLawn North Carolina, we offer artificial golf grass that can withstand years of use, including from shoes and golf clubs, so you can continue to play indoor golf for years without having to worry much about wear and tear. This means your indoor synthetic putting green will last for years, giving you a surface for putting that you can rely on.
Bring Your Indoor Golf Green Design to Another Level
At SYNLawn North Carolina, our artificial golf grass for putting greens is not just dependable and low maintenance; it is also highly realistic in appearance and feel. This makes it a beautiful, green addition to any indoor space. So for a unique and attractive indoor feature at your residential or commercial property, consider adding one of our indoor putting greens!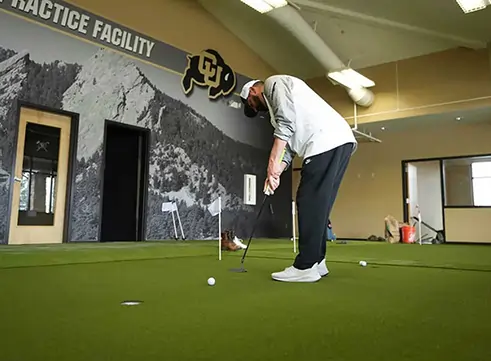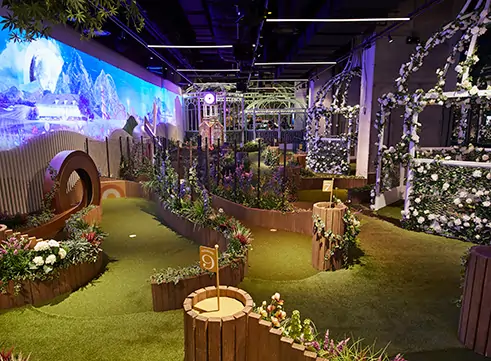 Why Choose SYNLawn North Carolina for Indoor Putting Greens?
In Charlotte, North Carolina, there are many options for golf greens made from all materials. Yet, for reliable, low-maintenance, and highly playable indoor putting greens, trust the team here at SYNLawn North Carolina. We will not only provide you with top-quality artificial golf grass, but we will also design and install the putting green on your property. Overall, this ensures that you receive an artificial indoor putting green that is built to last. Contact us today to learn more and get started!
Get a Quote for an Indoor Putting Green Today!
At SYNLawn North Carolina, our artificial indoor putting greens are an incredible alternative that allow you to avoid unpredictable weather conditions in Charlotte, NC. So for a high-quality golf installation for your residential or commercial indoor space, contact us today to get a quote!