Artificial grass from SYNLawn North Carolina provides homes, businesses, and more in Charlotte, NC with lawns that avoid pests, allergens, and mud. Unlike traditional grass, our synthetic grass helps prevent these annoyances. So if you want cleaner, more accessible grass surfaces for your home, apartment complex, park, business, or other space, consider our high-quality artificial turf!
Allergy-friendly Artificial Grass
Allergies can be an inconvenience, causing discomfort and even health complications. Sadly, many people and animals in Charlotte, NC are allergic to traditional grass, so it is best for them to avoid conventional lawns. Fortunately, at SYNLawn North Carolina, our artificial grass is allergy-friendly. Unlike traditional lawns and landscaping, our synthetic turf does not produce grass allergens. This allows people and pets with grass allergies to enjoy the softness and comfort of our highly realistic turf without allergy issues, such as sneezing, itching, and more. So enjoy laying on a lush, green lawn again with our American-made, allergy-friendly artificial grass!
Avoid Pests with Synthetic Grass
Another issue with conventional grass in Charlotte, North Carolina is bugs and other pests. Traditional lawns and landscaping offer housing for insects, which often leads to them infesting grassy areas. This can be a major annoyance for home and business owners as well as anyone trying to enjoy their grass.
Fortunately, at SYNLawn North Carolina, our synthetic grass is inhospitable to a variety of pests, including insects. This is because our artificial grass is not rooted in the soil and does not provide the same natural habitat and nutrients for insects that grass does. As a result, you will not see nearly as many bugs hiding in our synthetic lawns as you would in conventional grass. This helps make our artificial turf a pest-free space for you and others to enjoy!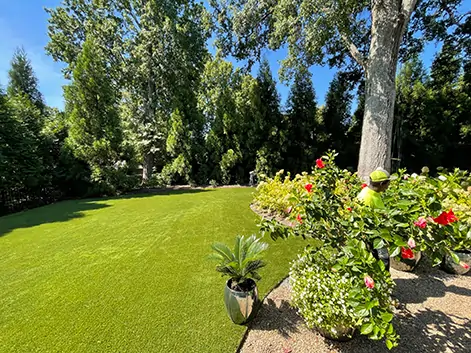 Keep a Mud-Free Home or Business with Artificial Turf
At SYNLawn North Carolina, our synthetic turf gives you the soft outdoor surface you need but without the mess. As noted earlier, our artificial grass is not rooted in soil or dirt. As such, you do not have to worry about it becoming muddy. Mud is one of the many inconveniences of having a traditional lawn, but with our stellar artificial grass, it no longer has to be an issue that creates messes all around your property in Charlotte or anywhere else in North Carolina.
Our artificial grass features a draining system that helps remove liquids quickly. In doing so, you will not have to deal with mud or pools and puddles of water on your grass.
Artificial Grass is Perfect for Pets
Artificial grass is an ideal solution for various applications. At SYNLawn North Carolina, we offer specialized types of synthetic turf, which includes artificial grass designed for pets. So if you have a pet that loves the outdoors but always gets into trouble in the dirt, our synthetic dog & pet turf can help! Since it is made from synthetic materials, your pet can happily roll around all day without getting as dirty as it would on traditional turf. The synthetic build of our artificial pet grass also makes it great for pets with grass allergies.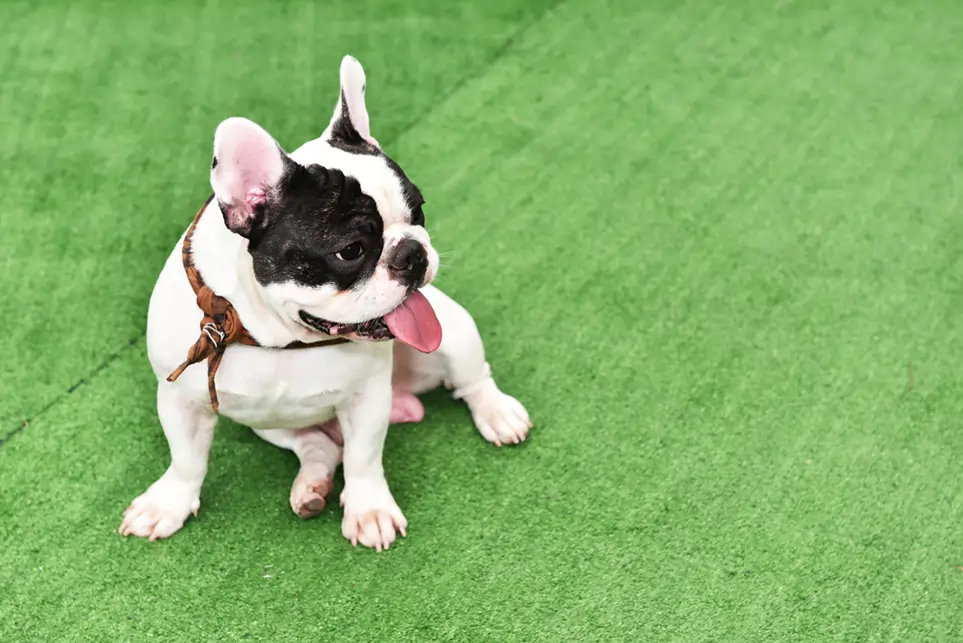 Other Great Ways to Enjoy Artificial Grass on Your Property
There are many different ways you can utilize artificial grass on your property in Charlotte, NC. Not only is it great for avoiding pests and allergens, but you can use it for a variety of spaces. This is due to our selection of synthetic turf products, which includes:
With our many options, you can find a specialized type of turf to help fit your spaces. Best of all, each of our artificial grass products will help you avoid pests, grass allergens, and mud.
Switch to Artificial Grass From SYNLawn North Carolina
Avoid the nuisance of pests, allergens, and mud by using artificial grass from SYNLawn North Carolina for your outdoor spaces in Charlotte, NC. Our artificial grass is beneficial for pets, kids, and outdoor recreation without mess and fuss. With it, you can have the best of both worlds and enjoy your outdoor space without the hassle and care of a traditional lawn. So contact us today to learn more and get a quote!