For landscapers, contractors, architects, and others in Charlotte, NC, SYNLawn North Carolina has state-of-the-art artificial turf for sale. Our many stellar and realistic artificial grass products can be installed in numerous spaces on many different types of properties. We offer a wide variety of synthetic turf products to fit the needs of homes, businesses, apartment complexes, and more. By utilizing our industry-leading artificial grass for your project, you can own or provide your client with an evergreen lawn or landscape that has been specially designed to impress and be enjoyed for years to come.
DIY Synthetic Grass for Residential Use
At SYNLawn North Carolina, our team sells our American-made artificial turf products to anyone interested in improving their surfaces. This even includes homeowners in Charlotte, NC, who are looking to install synthetic grass themselves. While we encourage opting for our professional installation service, homeowners are able to install our premium artificial grass products themselves. Upon purchasing our turf, our team can even share some helpful tips and tricks to help ensure your Do-It-Yourself (DIY) synthetic grass front or backyard installation is successful.
Supplying Artificial Grass for Landscapers, Contractors, & Architects
The professionals from SYNLawn North Carolina also sell and supply artificial turf for architects, contractors, and landscapers to utilize in their various projects in and around Charlotte, NC. We offer many synthetic grass products that can be used for different types of commercial properties as well as residential properties. By incorporating our quality artificial grass into your plans and projects, you can provide your clients with beautiful, long-lasting surfaces that require little maintenance.
Some of the many artificial turf products we supply to contractors, landscapers, and architects in Charlotte, North Carolina include: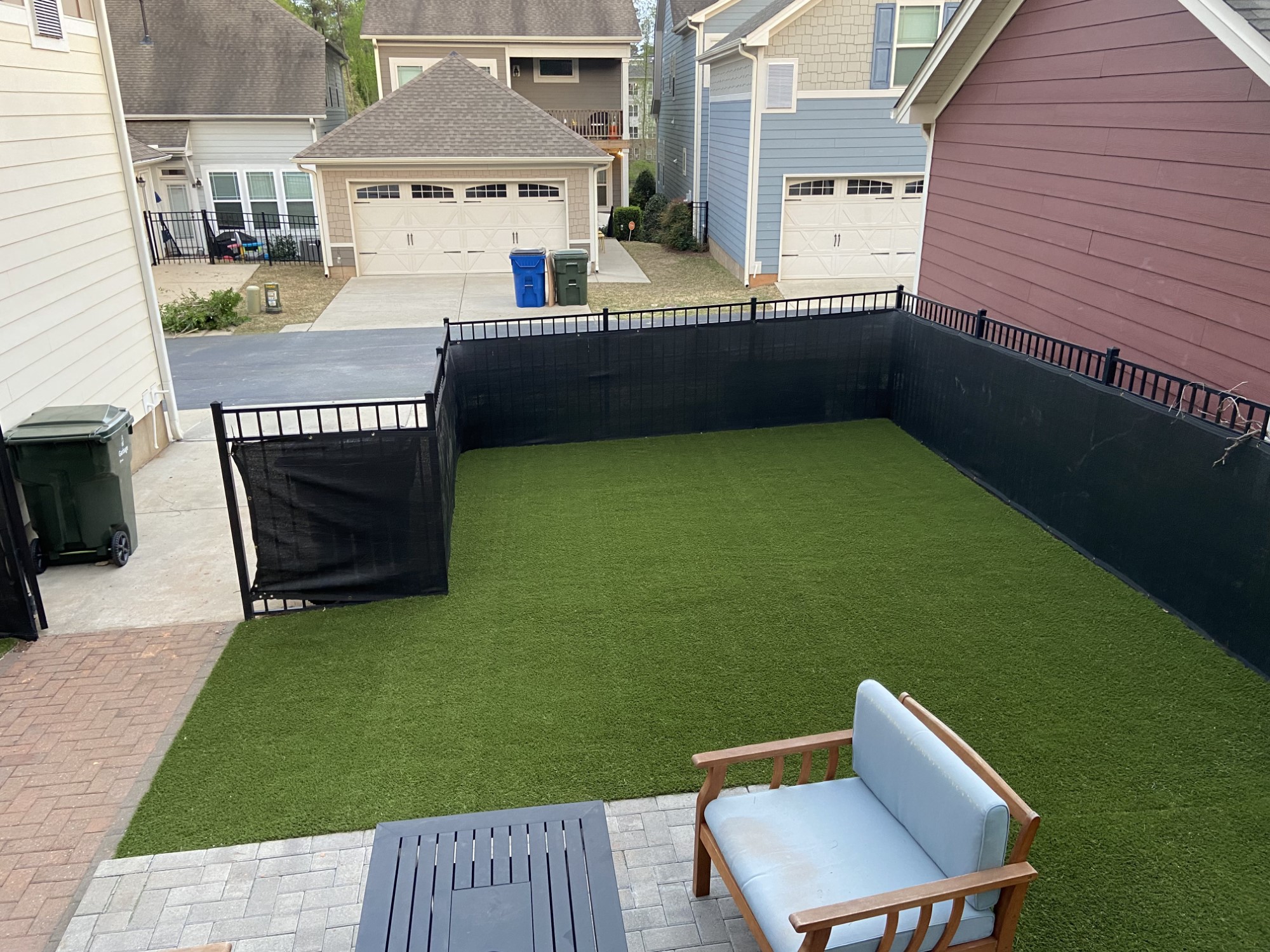 With our selection of synthetic turf, you can find a suitable surfacing solution for nearly any of your clients' needs.
Benefits of Purchasing SYNLawn Artificial Turf
At SYNLawn North Carolina, our state-of-the-art artificial turf for sale can provide DIY enthusiasts as well as architects, landscapers, contractors, and their clients with numerous benefits, including:
Made In the USA
All SYNLawn synthetic grass and artificial turf products are made right here in the United States of America. In doing so, our artificial grass is not only made from high-quality materials but monitored through each stage of the manufacturing process to ensure its overall excellence. As a result, we at SYNLawn North Carolina provide our customers with synthetic turf that is ultra-realistic and remarkably durable.
Limited Lifetime Warranty
At SYNLawn North Carolina, we believe in our synthetic turf products, which is why we offer a limited lifetime warranty. This warranty provides coverage for backing integrity, yarns, turf bind, and UV degradation throughout the life of our product. With it, our team can help ensure you and your clients get what they pay for.
Eco-Friendly
Our artificial turf products are also incredibly environmentally friendly. This is because they eliminate many of the forms of traditional grass maintenance that can be harmful to ourselves and our planet. With a synthetic lawn, landscape, or putting green, property owners do not need to waste water, utilize a gas-powered lawn mower, or potentially poison soil with fertilizers and other chemicals like weed killers. Thankfully, our artificial grass eliminates the need for each of these activities, making it far better for the environment and Charlotte, NC.
Get a Free Consultation with the Pros at SYNLawn North Carolina Today!
High-quality artificial turf is for sale in Charlotte, NC thanks to the professionals here at SYNLawn North Carolina. Our many amazing synthetic grass products are perfect for DIY-ers, landscapers, contractors, and architects. Find out more about our supply of artificial grass by contacting us today for a free synthetic turf consultation!