In Charlotte, artificial grass has become an increasingly common material for all kinds of uses in residential, commercial and public works landscaping. At Southeast Turf, we can tell you that this is a trend throughout the Carolinas. It also reflects a growing trend all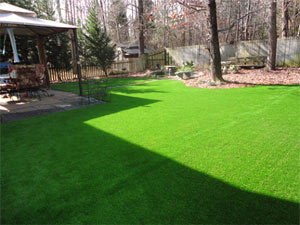 over North America of using high-quality synthetic turf in place of living grass or in place of materials such as gravel, asphalt and mulch.
Why the increasingly large popularity of synthetic lawns and other synthetic grass applications? The reasons that make today's artificial turf a wise landscaping and design choice are numerous.
The first thing you have to understand, however, is that artificial turf has come a long, long way since it was invented in the mid-1960's. That first fake grass was revolutionary in its day, but it left a lot to be desired in terms of appearance and comfort. Advancements in technology over the ensuing decades have allowed our supplier, SYNLawn®, to create specialized synthetic grasses for different applications that look realistic to the eye and feel great to the touch.
Since the aesthetic drawbacks that used to come with artificial turf have been overcome, its advantages shine through like never before. Installing a synthetic lawn is a way to have a beautiful green yard all year round with very little maintenance. Artificial grass doesn't require mowing, regular watering, fertilizers or pesticides. That saves on time and labor, as well as on money for water bills, lawn chemicals and gasoline to run a lawnmower.
In addition to being easy to care for, the artificial turf we sell is environmentally friendly. Compared to natural grass, artificial grass conserves thousands of gallons of water annually for a household. No lawn chemicals means no danger to children and pets, and no toxic runoff into the environment. Eliminating mowing eliminates the air pollution generated by gas mowers.
Even the manufacturing process used to make our artificial turf is environmentally friendly. State-of-the-art technologies achieve greater product strength and longer product life while actually using less in the way of raw materials. Our synthetic grass products also incorporate recycled materials and biobased polyurethane that is derived from soybean oil instead of petroleum.
In the Carolinas, Southeast Turf LLC is the exclusive authorized distributor of SYNLawn® products, hands-down the best synthetic grass products available today. We have turf products for residential lawns, for pet areas, for playgrounds and for putting greens, as well as for commercial applications. Call Southeast Turf today at 704-997-8006 and let us help you find the synthetic turf solution that's right for you.