Raleigh Artificial Grass
Low-Maintenance Raleigh Artificial Grass Lawns
Southeast Turf's SYNLawn® artificial grass is versatile enough to shine in both residential and commercial applications.
You'll find Southeast Turf's Raleigh artificial grass and turf in a growing number of places, and with good reason. Our synthetic artificial grass comes from industry leader SYNLawn®, and is perfect for residential and commercial customers alike because of its durability and versatility. Homeowners love our artificial grass for lawns, backyard putting greens, durable pet turf and more, while business owners find our synthetic grass to be a perfect, low maintenance, cost-saving substitute for natural grass in their business' outdoor spaces. If you're considering making your grass areas artificial you owe it to yourself to speak to us today. Working together we can create a custom installation that looks incredible and is built to last. So what are you waiting for?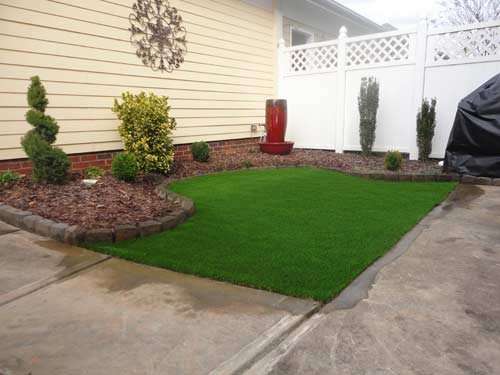 Whether you own a home or a building you want your outdoor areas to have the benefit of a great looking grass lawn. Here are just a few of the reasons why our Raleigh synthetic artificial grass for lawns is the perfect choice for those looking above and beyond natural grass:
With no watering, mowing or fertilizing your maintenance costs will be reduced
Our Raleigh artificial grass lawns maintain a perfect appearance year-round regardless of climate conditions
Custom design and installation
No tracking of dirt or mud by children or pets
8-12 year manufacturer warranty
Southeast Turf will change the way you think abut "fake grass" by introducing you to products that redefine how realistic synthetic grass can be on very level. The incredibly realistic nature of our Raleigh synthetic artificial grass is no accident. Southeast Turf is passionate about the products we offer. We've created excellence in our industry for over four decades, and invite you to join our ever-growing list of satisfied customers.
Imagine how much the look, feel and value of your home or commercial facility will improve simply by adding one of our Raleigh artificial grass lawns to your outdoor space. Your custom design and installation is just a phone call away!