Mooresville Synthetic Lawns
Mooresville Synthetic Turf Installation and Supply
Ready for a show stopping synthetic lawn that leaves your yard the envy of the neighborhood?
Looking for the best artificial turf Mooresville, NC has to offer? At SYNLawn, we care about our clients. That's why our turf is built to withstand mother nature. Whether it's heavy foot traffic or climate conditions, our turf will survive and come out looking just as good as the day the SYNLawn team installed it. Not only is SYNLawn's synthetic lawn grass turf designed to last for years and years, it's a one-of-a-kind turf that's soft, comfortable and affordable. Plus, with over 25 different styles and options, you're guaranteed to find turf that fits your space perfectly! Our professional team will work with you to create a custom installation, bringing your dream to life. We won't stop until you're 100% in love with your back yard.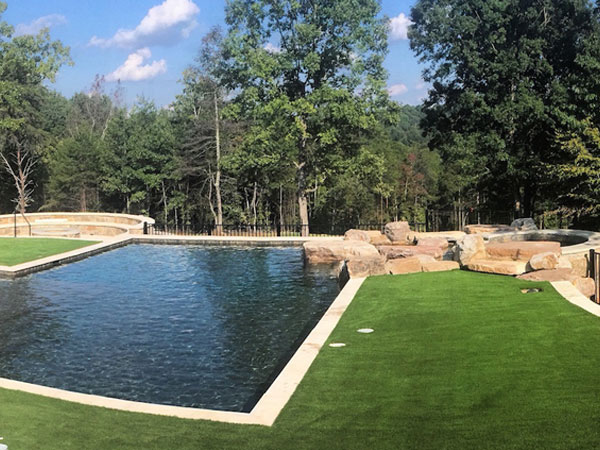 Our SYNLawn® synthetic turf can transform nearly any space – you name it! From lawns to putting greens, SYNLawn is improving countless outdoor areas every single day.
Our services include:
Synthetic grass lawns
Backyard putting greens
Indoor golf greens
Commercial tee lines
Pet turf
Playground turf
Synthetic lawn

grass turf for commercial facilities

and office buildings
Ready to own the most talked about yard in the neighborhood? Create an outdoor space that turns heads and drops jaws. For a space that you'll fall in love with, contact SYNLawn today.
The more residents learn about SYNLawn's Mooresville synthetic grass, the more they want to make it the centerpiece of their home's outdoor space. Besides, let's face it – our turf requires nothing from you in terms of watering, mowing or even fertilizing, saving you time and money! All you have to do is sit back, relax and admire its long-lasting beauty. Our SYNLawn® products have shined for over four decades and continue to do so due to our passion for setting the industry standard for excellence.
When residents in Mooresville desire artificial lawns they look to Southeast Turf for custom design and installation that is unrivaled in our industry. Schedule your free on-site consultation today.