Benefits of Choosing Artificial Grass
There are various benefits to choosing artificial grass, and some might surprise you. The first reason many make the switch is to save a ton of time and money on upkeep. In addition to being low-maintenance, other benefits include safety for kids and pets, durability, longevity, and being environmentally friendly.
It Saves Time & Money
Your time is a precious resource. Think of how many hours you've spent watering or mowing your lawn in the scorching heat of summer in Mooresville, NC? Because artificial grass doesn't require watering, weeding, or mowing, that time is now yours to do with as you please.
Additionally, you'll save a bundle on your water bill and other associated maintenance costs. Since synthetic grass doesn't grow, it never needs to be cut and only requires a strong water spray when cleaning a pet's mess. Most often, a broom or leaf blower does the job.
It's Good for Pets, Kids, and the Environment
Many families, businesses, and city governments are not only concerned about time and saving money, but also care about how their decisions affect children, animals, and the environment.
Commercial artificial grass is favored for golf greens, playground turf, and pet grass for dogs because it is easy to clean, is durable, and has excellent longevity when correctly installed and maintained.
Besides saving water and lessening the strain on the environment, turf is also safe for pets and kids. It never requires harmful chemicals that are often found in herbicides and pesticides.
Where is Artificial Grass Used?
Synthetic grass will keep the lawn of your home or business looking great throughout all four seasons. Really, it is ideal for just about any place that would typically have grass, such as golf courses, sports fields, playgrounds, dog runs, and parks.
Golf Courses & Sports Fields
Artificial golf and putting greens always stay neat and trimmed without any effort or drain on a golf course's limited resources. It's also excellent for baseball, football, or soccer fields because due to its quick draining technology, it prevents the ground from becoming too slippery after a rainshower. Whether sports are held indoors or outdoors, artificial turf works exceptionally well.
Dog Runs & Playgrounds
Because of its ruggedness, low maintenance, lack of added chemicals, and effortlessness to clean, dog run artificial grass is considered an essential covering for city dog runs and anywhere else where dogs play.
Synthetic pet grass is simple to clean, as all you need to do is just spray it with a hose and mild detergent. Also, your pet won't be able to dig any holes into the fake dog grass, meaning no unsightly holes and clumps of dirt everywhere.
For similar reasons that make artificial pet grass popular, artificial playground turf is well-liked because it doesn't require fertilizers, pesticides, or other chemicals and is allergy-free. It can easily handle kids playing on it all day, and the fibers are protected against fading caused by ultraviolet ray exposure from the sun.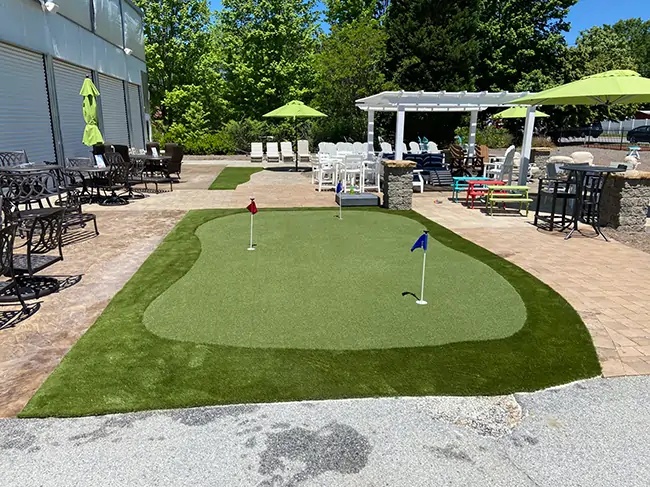 Start with a Free Consultation
Now that you know all the reasons why so many folks in Mooresville, North Carolina, are switching to artificial grass, why wait any longer to enjoy those numerous benefits for yourself?

We have many marvelous artificial grass offerings and installation packages you can view in our product gallery. But don't just take our word for it; our five-star client testimonials speak for themselves!

Contact our synthetic grass experts at SYNLawn Carolina today for a free consultation. Our friendly specialists will answer any questions you have so the evergreen artificial grass lawn of your dreams can sprout.