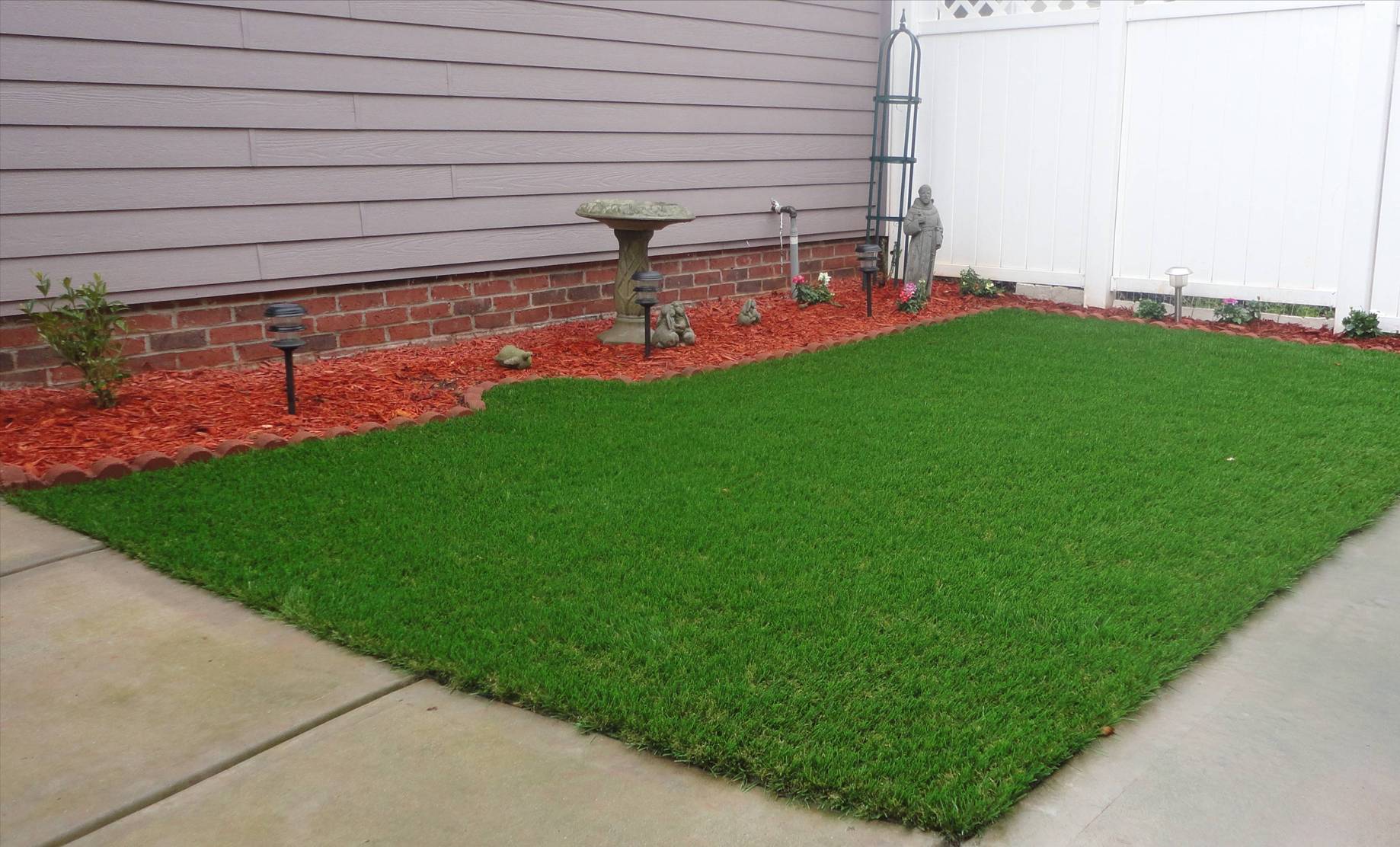 Having a bright, green, healthy lawn is something that nearly every homeowner and business owner strives for, whether they live in Lake Norman, North Carolina, or elsewhere in NC. Keeping outdoor areas looking neat and attractive is one of the top priorities of any home owner or business owner, too. But when weather makes it nearly impossible to keep natural grass lawns thriving, property owners don't need to panic. Because at SYNLawn Carolina we have synthetic grass lawn options that will have your business grounds or home's front lawn looking expertly manicured all year round.
Artificial grass is a solution that many turn to when it comes to keeping a lawn looking perfect. Not only does artificial turf require zero watering and minimal upkeep (no weeds to pull or blades to cut), but it can last years on end without fading or tearing apart. In other words, instead of spending thousands of dollars each year to reseed or sod a yard, your hard-earned cash can be saved and go towards something else.
Residents of Lake Norman, North Carolina are likely familiar with poor quality lawns filled with unsightly patchy grass. The rocky, sandy terrain surrounding the massive man-made lake makes for fun beach days, but it doesn't necessarily bode well for natural lawns. Synthetic turf can help homeowners and business owners achieve the outdoor look they desire—and the benefits don't stop there!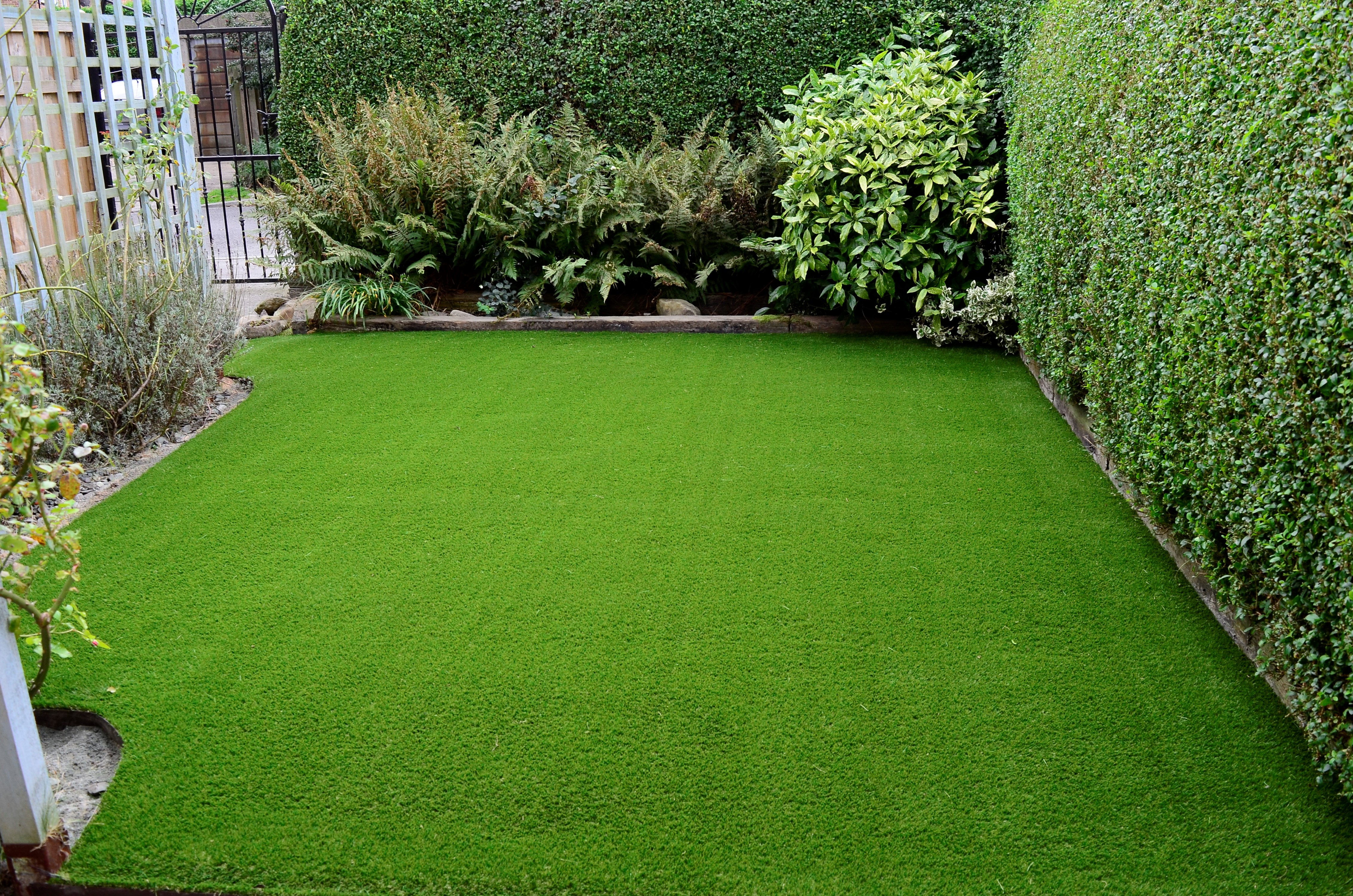 Enjoy the Benefits of Artificial Grass
Synthetic grass has several benefits. Firstly, unlike natural grass, it doesn't need to be watered. You can neglect your artificial turf for years but never see a decline in its appearance or performance!
And because your new green lawn won't grow taller, you can save a great deal of money in annual yard maintenance. Instead of investing in a new lawn mower, weed whacker, and reseeder, you can kick back and relax as your yard remains just as fresh, green, and neat as the day it was installed.
Do you have an energetic dog? Fake grass for dogs is certainly a smart buy if your pooch enjoys digging holes in the backyard, gets overheated in sunny weather, or tends to collect fleas every time they go outside. That's because artificial grass stays cool in the sun, doesn't attract pests, and is durable enough to resist even the most excited pair of digging paws.
Are you an avid golfer? If so, you've likely already noticed that some golfing courses utilize artificial grass. That's because synthetic turf helps golfers make consistent putts near each hole. When each blade of fake grass is the same length, texture, and density, there's far less guesswork. Putting greens have never been so easy to own and we can help you custom design and build the perfect synthetic golf greens or artificial putting greens to keep you entertained, all while keeping your skills honed for years!
Commercial artificial grass is just as durable and worthwhile, and it can add a comfortable touch to an otherwise drab or uninspired storefront or the corporate campus grounds. Business owners can install artificial turf on a rooftop bar, an indoor seating area, or front patio dining area to heighten their customer's experience (and reduce lawn maintenance costs). And break time just got better for your staff. Your team will enjoy the ability to lounge in the grass without fear of dealing with biting insects common to traditional turf lawns. It also won't flare allergies and it even has antibacterial and antimicrobial properties built right in.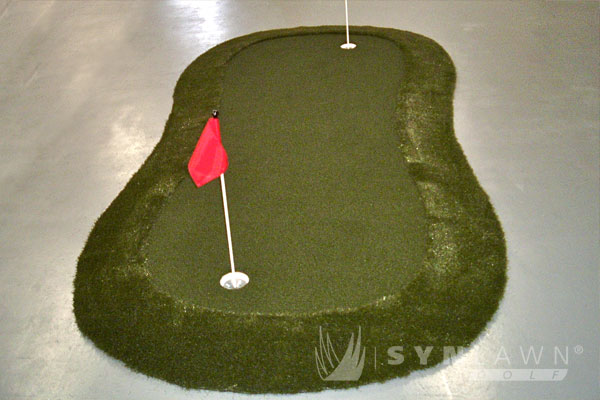 What Is Artificial Grass Used For?
Artificial grass is used for a variety of purposes and applications. Some of the most common reasons people use artificial grass include:
Making their lawn look brighter and more attractive
Keeping putting areas on golf courses clean and trimmed
Helping pets avoid unwanted accidents on furniture or hardwood floors
Fresh air and sunshine with stimulating outdoor play
Saving water by reducing lawn waterings
Making businesses look friendlier and more inviting
Creating unique rooftop garden spaces that require minimal water
Making playground terrains more inviting
If you're tired of watering a patchy lawn and overspending on water, an artificial lawn could be a weight off your shoulders. Not only that, but an artificial yard could increase your property value. If you are planning to eventually sell your property an artificial grass lawn is a great way to increase market value and garner interest. To maximize market value and increase your enjoyment of using the artificial grass lawn, businesses and homeowners alike may want to make the investment sooner rather than later.
Lake Norman, NC residents living in apartments or townhomes might not have a large lawn, but that doesn't mean they can't also use artificial grass. After all, synthetic grass is a fantastically pet-friendly material that is simple to take care of, all while adding a look of luxury.
What makes pet and dog artificial turf so great is that it is safe, secure, and simple to clean. Because it comes with quick draining technology, dog urine doesn't accumulate in one spot and cause odors. Also, puddles of water won't form after a storm, meaning your furry friend won't jump into a mud puddle and then run through your house!
Synthetic dog turf or pet grass can also be installed into backyards or indoor spaces to create unique, eye-catching, long-lasting play spaces or dog runs. In fact, residents don't even need to own a pet or have a yard to install artificial turf. It can be installed onto outdoor patios, balconies—really anywhere one's imagination takes—to create a distinct style.
Get Started With a Free Consultation
There's never been a better time to embrace the benefits of artificial turf. Whether you're a homeowner or business owner, artificial grass could help you enjoy reduced property maintenance costs and water utility usage. Besides, a synthetic lawn looks great and can endure rain, snow, and sunny weather for many years, without fading!
If you're interested in learning more about a synthetic grass lawn, don't hesitate to reach out to us with your questions and concerns. We here at SYNLawn Carolina are more than happy to help you choose the best artificial grass products and solutions.
We've proudly served families and businesses throughout the Carolinas for many years, and we're excited to continue extending our services to those living in the Lake Norman, North Carolina area.
SYNLawn Carolina offers free estimates on all our services; from pet grass, sport courts, patios, playgrounds and more. You can receive a fast quote by calling, messaging, or visiting us!