Raleigh Artificial Grass
Synthetic Grass Installation for Dog Runs
Synthetic grass from SYNLawn® makes a comfortable and safe outdoor surface for your pet, and an easy to care for pet turf for you.
Our Greenville synthetic grass is the perfect surface for pet lovers and their furry friends. We've worked hard to provide our clientele with grass synthetics that are the very finest in the industry when it comes to pet safety and comfort, and no other pet grass is as easy to maintain for you as a pet owner than our SYNLawn® artificial grass. Southeast Turf has always been a pet friendly company, because we know that are pets are important members of the family. We'll work with you to create a custom installation that takes into consideration everything from the size and breed of your dog to the amount of time it spends outside. No stone will be left unturned when it comes to your synthetic grass installation, so learn more about our Greenville synthetic turf today!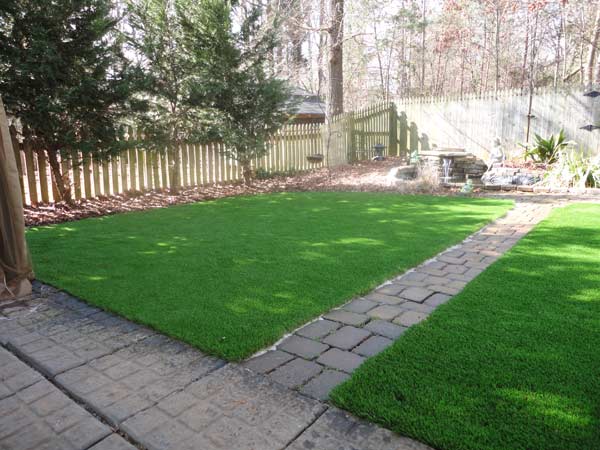 The benefits of creating a dog run or grass lawn using our state-of-the-art turf are plentiful for both you and your pet, and include:
Our synthetic lawns doesn't allow for digging
With no dirt or mud to be found, that means none will be tracked into your home
None of the pests, including fleas and ticks, found in natural grass
Stain resistant surface; no urine spots in yard
A drainage rate of some six inches per hour
Easy to clean surface
Additional security upgrades are available
Odor control surface
We take pride in being a dog friendly company, and in providing products our customers can count on as they have for over four decades. Discover the benefits of our Greenville grass synthetics for yourself.
You want your dog to relax in comfort and be safe during its outdoor time, and our Greenville synthetic grass can assure that this is the case. And of course your custom synthetic grass installation will keep its green and pristine look year-round and requires little to no maintenance from you.
Schedule your free consultation with a Southeast Turf professional today. Our Greenville synthetic turf from SYNLawn® promises to be a surface both you and your pet will love.