Artificial Lawn Installations in Charlotte
The many wonderful environmental qualities of our products make our artificial lawns a responsible and money-saving investment.
There is no doubt that those who have installed our Charlotte artificial lawns, putting greens, pet turf, sports field turf and playground grass enjoy the incredibly realistic look and feel our products maintain year-round. We are a distributor of SYNLawn® products, which boast another great quality in that they are some of the most environmentally beneficial artificial grass products in our industry. Consider if you will that they are 100% recyclable and that they can help you conserve water because they don't require watering ever. And that's just the beginning of the many ways in which our Charleston artificial turf can help you to lower your environmental footprint. Call Southeast Turf today to discuss your custom installation.
When you choose our Charlotte artificial grass for your home or commercial facility you'll tap into turf whose very existence gives a major nod to the idea of environmental responsibility. This is no ordinary "fake grass," as evidenced by these benefits:
Reduce your water use by as much as 70%
No watering, mowing or fertilizing ever, conserving water and eliminating carbon emissions form mowing and chemicals used in lawn maintenance
Products are created with post manufacturing waste, reducing the load on local landfills
Contributes to LEED Points
Lead-Free
100% recyclable
Drains 30 gallons of water per square yard per hour
Over 60% of the petroleum base polyurethane is replaced with soybean oil
BioCel Urethane Coating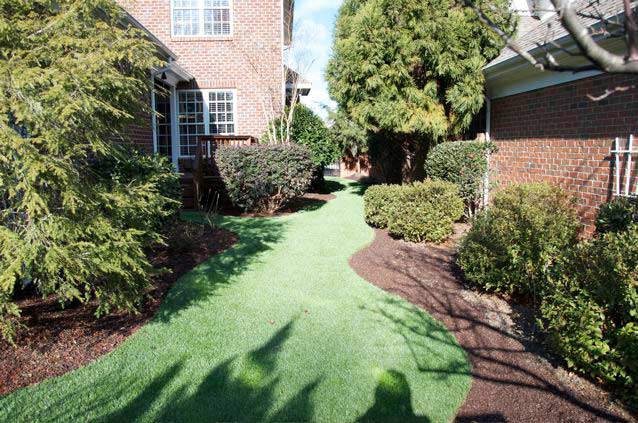 As you can see the mere installation of our Charlotte artificial turf allows you to impact your surroundings in a very positive way. What a wonderful quality to bring to your home.
More and more of your friends and neighbors are making our Charlotte artificial lawns a centerpiece of their homes. There is simply no more realistic alternative to natural grass than Southeast Turf's SYNLawn® synthetic grass, and we're passionately committed to the continued evolution of our state-of-the-art turf.
We'll work closely with you to make certain that your Charlotte artificial grass installation is customized to accentuate your surroundings and add a wonderful and environmentally friendly aesthetic to your home or commercial facility.