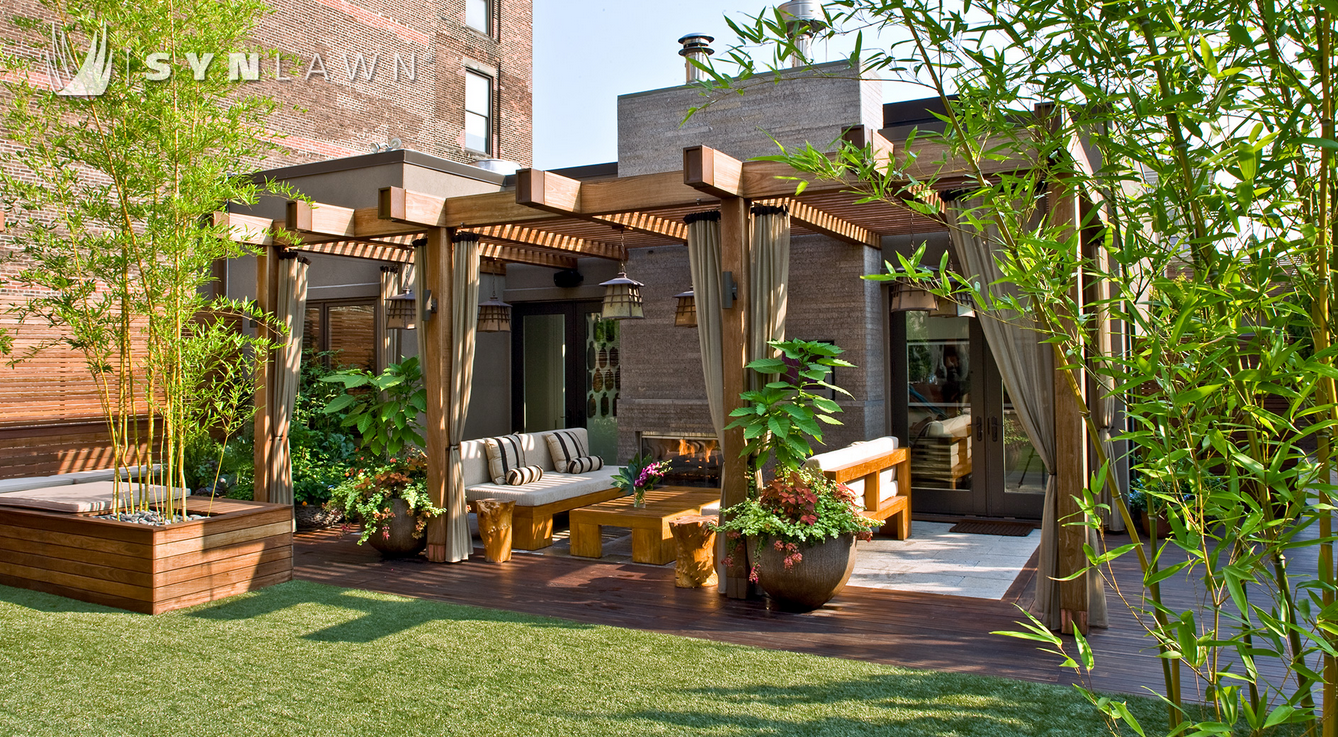 Despite Chapel Hill being a naturally green city, residents and business owners are turning to artificial grass by SYNLawn Carolina to elevate their home or enterprise, thanks to its unmatched features. Our premium turf will make your yard the envy of your neighborhood or your business stand out from the rest. The versatility of our turf is a calling card for SYNLawn Carolina, and we're excited to show you everything our artificial grass has to offer.
Why Chapel Hill, NC Residents Choose SYNLawn Artificial Grass
Chapel Hill is a beautiful city full of towering trees and gorgeous foliage, but many residents and business owners use artificial grass to transform their property's visual appeal. There are several reasons for this change, including the following factors.
Common Uses for Artificial Grass in Chapel Hill, NC
There is a significant presence of artificial grass in Chapel Hill, particularly at local sports fields and entertainment venues. However, there are other common uses for our turf in the area.
Safe Pet & Dog Turf
Pet parents love SYNLawn's dog turf. It's made to be extremely durable so that it will last against even the most rambunctious pups. SYNLawn Carolina professionals have experience installing dog runs, kennel systems, and lawns that your dog will be safe and comfortable on.
Many dog owners are turning to synthetic turf because it has superb drainage properties, so even after intense rainfall, your dog will be able to run outside and play shortly after a storm. It also eliminates urine spots, pests, and fleas, which require natural grass to thrive. Furthermore, it's nearly impossible to dig a hole through our synthetic grass. It's clear that our premium pet and dog turf is the better choice for your furry friend's needs.
Residential Putting Greens
SYNLawn can create a supremely realistic putting green in your very own backyard to create an environment designed to help you relax and improve your short game. We have an extensive inventory of putting green options to customize a design for any location or budget. Our backyard synthetic golf greens are just like the pros use, but in your backyard, you can play at any time, solo or with friends and family.
Commercial Artificial Grass Uses
Businesses in Chapel Hills, NC and across the country have realized that artificial grass is a great-looking and cost-effective alternative to traditional grass landscaping. Our commercial clients like to have turf installed at their hotels, restaurants, sporting facilities, gyms, and more. We've completed incredible mini golf courses at resorts, parks, and shopping malls. We even have options for outdoor patios, decks, and terraces. More and more commercial entities are turning to SYNLawn artificial grass to save on maintenance costs and upkeep.

Free Design Consultation & Grass Sample
SYNLawn Carolina is thrilled at the prospect of showing you all of the excellent artificial grass products we offer. Our skilled professionals are happy to answer your questions. Contact us for a free design consultation, and we'll even share a grass sample with you! You can take a look at our product gallery for inspiration in the meantime, and we look forward to working with you.