Asheville Synthetic Lawns
Asheville Synthetic Lawns Installation and Supply
Make one of our synthetic lawns the centerpiece of your home's outdoor space.
Adding one of our Asheville synthetic lawns to your home is an idea whose time has come. You'll be amazed at the realistic look and feel of our synthetic turf, and at the incredible custom installations we create for each of our clients. The professionals at Southeast Turf will work closely with you to help you choose from among our 25 synthetic grass options, and to create a design that brings your vision for your outdoor space to life. We are a distributor of SYNLawn® synthetic lawn grass turf, which is as, realistic, durable and affordable as any in the industry. We're proud to supply our clients with a products built to withstand climate conditions and heavy foot traffic and created to bring years and years of aesthetic beauty to your home. There are fake lawns, and then there are lawns made from our Asheville synthetic turf.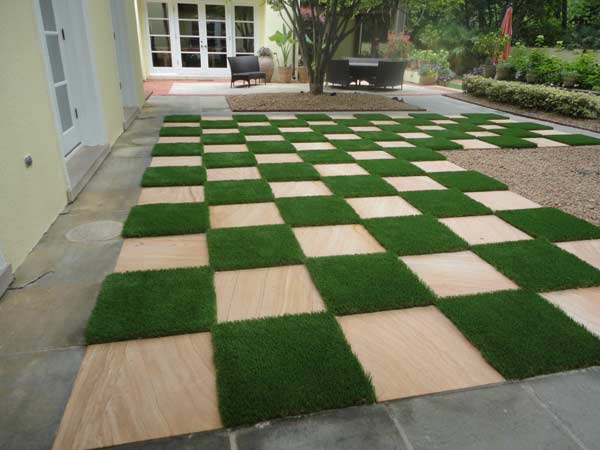 Our SYNLawn® line of artificial grass products are among the most versatile in the industry, and can be found in the following places:
Synthetic grass lawns
Backyard putting greens
Indoor golf greens
Commercial tee lines
Pet turf
Playground turf
Synthetic lawn

 

grass turf for commercial facilities

 

and office buildings
Make your home the envy of your friends and neighbors by outfitting your outdoor space with our Asheville synthetic lawn turf.
The more you learn about our Asheville synthetic lawn grass the more you'll want to make it the centerpiece of your home's outdoor space. Southeast Turf synthetic grass asks nothing from you in terms of watering, mowing or fertilizing, leaving you plenty of time to admire its long-lasting beauty. Our SYNLawn® products have shined for over four decades, and continue to do so due to our passion for setting the industry standard for excellence.
When residents in Asheville desire artificial lawns they look to Southeast Turf for custom design and installation that is unrivaled in our industry. Schedule your free on-site consultation today.