One reason why fam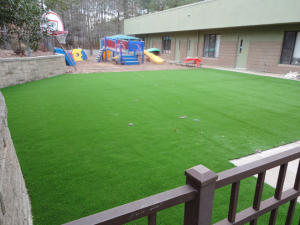 ilies buy certain houses are for their backyards and what they could do with them. This is a very important factor for new families that have children on the way and want a place for them to have fun safely at home. Most people with a plan for their backyards have various reasons to why they couldn't repair it the way they wanted or just lacked the time to work on it. A yard that isn't cared for can be unsightly and could create hazards for a child to play in. Such hazards could include: holes the child could trip and harm themselves, puddles that could attract mosquitoes or contain harmful bacteria, or weeds and certain plants that could cause allergic reactions. You can avoid all these hassles by installing playground grass from Southeast Turf from SYNLawn®.
With built-in padding underneath the artificial grass, it prevents your child of injury from falls as high as 10 feet.
Children with allergies that are caused from grass are no longer an issue. Artificial grass is non-allergenic.
No more grass stains in your child's clothing!
We all know that children can cost a lot of money and while they are worth it, some are more accident prone then others. So while preventing your doctor and hospital bills from sky-rocketing, children aren't the only ones that get to benefit from having a playground-grade lawn in your own backyard.
With artificial grass, that means little to no maintenance. So with the added free time, you can spend all your time and energy playing with your loved ones instead of pulling weeds and mowing the lawn.
Our artificial grass has a drain rate of 30-inches an hour, so you don't have to worry about puddles forming that could attract insects while saving money on the clothes you won't have to wash.
You'll never have to worry about dying grass or bald patches due to the weather. All year your yard will look perfect.
You can have peace of mind having your child play in the yard knowing all our products are ASTM HIC tested, meets IPEMA standards, and have CSA approved fall attenuation.
At Southeast Turf, we use a poured in place bonded rubber with your SYNLawn® artificial grass to ensure that your yard is professionally installed and that the transition from one surface to another is perfect while accommodating for disabilities. Please give us a call at 704-997-8006 or contact us to get a free sample or schedule a free on-site consultation today!