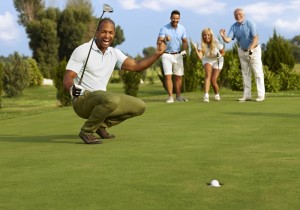 Experts agree: practice is the key to mastering any skill. The driving range is a great way to improve your long game and hone your drive, but the truth is 80 percent of shots are lost to par within 125 yards of the hole. Short game is crucial to lower your score, and it is important to practice regularly to maintain your skills. A luxurious home putting green allows practice to happen at your leisure on a course designed exclusively for your skill level. Master the perfect flop, chip and putt with a specialized golf green at home. Get golf on-demand with Southeast Turf / SYNLawn® Carolina's professional putting greens.
Realistic performance. The key to good practice is creating the most realistic playing conditions possible with the highest quality products. Nylon grass fibers disperse and absorb the energy of the ball while allowing for natural ball roll to mimic natural playing conditions. Dimensional stability and professional-quality grass create the perfect playing surface to improve your short game and build additional skills.
Durability. SYNLawn® grass fibers last longer and use less material than competitor's products. 100 percent nylon fibers are durable and stand up to heavy use and foot traffic over time. Our Tee Strike™ putting greens even offer one-inch thick grass for use with real tees without causing damage to the surface of your grass. SYNLawn® even offers a 15-year warranty on each grass product to guarantee a lawn that lasts.
Quality. Southeast Turf / SYNLawn® Carolina has Green Master™ certified installers to craft your putting green with care and expertise to ensure a quality fit. Non-skid backing on putting green mats guarantee your putting surface remains secure. All SYNLawn® artificial grass products are UV-stabilized and incorporate recycled materials to form the most sustainable product on the market.
Low-maintenance. Southeast Turf / SYNLawn® Carolina offers artificial grass that is always cut to the perfect height so you can focus on your game without the need for excessive maintenance. Synthetic grass is eco-friendly, too. It is estimated that homes with SYNLawn® artificial grass installations can save up to 70 percent off their original water bill. Imagine saving money on something that's actually fun!
Expert-recommended. SYNLawn® works with golf legend and instructor Dave Pelz to create the most realistic golf grass in the industry. Pelz's professional eye and intimate knowledge of the golf game have provided unparalleled insight into the mind of a golfer so we can create superior products using the most innovative artificial grass technology to-date. Take advice from the experts and invest in a home putting green to improve your short game.
Only the most dedicated golfers know the advantages of a home putting green. Not only does convenience offer additional opportunities for practice, but the superior quality of SYNLawn® products guarantees a professional experience so you can immediately apply your practice to the course. Whether it's a quiet game with some old buddies or a competitive match between rivals, Southeast Turf / SYNLawn® Carolina can improve your score. Request your free sample today to experience the SYNLawn® difference.