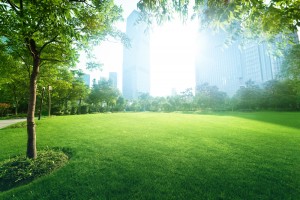 As a business owner, it is important to align all aspects of your brand image to convey a tightly-controlled appearance to prospective clients and employees. Presentation is a large part of the package your company sells to investors; a neatly packaged product with a natural, "go-green" message is much more likely to score a sale than one simply thrown onto the table without packaging, presentation or forethought. Southeast Turf / SYNLawn® Carolina has soy-backed artificial grass to enhance your company's image and promote your products. The concept is simple: go green to bring in more green!
Large businesses are becoming increasingly interested in the benefits of artificial grass. Companies like Google and LinkedIn use artificial grass as decoration at their corporate headquarters and others have followed suit for practical purposes. Reduced water bills, increased safety and an evergreen look are just the beginning of the differences SYNLawn® artificial grass can make for your business.
Display. Numbers don't lie – companies that put thought into creative presentation and product promotion sell more for one simple reason: their products are attractive. Product displays are the first touchpoint for customer interaction. A well-designed display catches the eye and piques the interest of the consumer; more importantly, it tells clientele what your brand is all about. SYNLawn's innovative BioCel™ soy-backed grass protects the environment and saves watering costs so your new "green" look isn't just for show – it's an investment in the future of your company.
First-Impressions. Full, green grass on a company lawn provides a positive first impression when clients arrive for meetings. Lawns provide respite from bustling offices, relaxed settings for conversation and attractive scenery to enjoy a peaceful day of productive work. Nylon grass fibers ensure durable surfaces remain intact even when exposed to heavy foot traffic. Southeast Turf / SYNLawn® Carolina's expert designers listen to your needs and craft a landscape plan to suit your terrain and needs. Install grass that lasts to match the lasting vision of your company.
Send a message. Does your company support eco-friendly values and the vision of a greater world to pass on to our children? Artificial grass made with recycled materials and soy backing not only saves water, but helps consumers understand the products and image of the company are environmentally friendly. Artificial grass is a statement and a testament to your commitment to an eco-friendly future. Market your company with the only grass to earn a Class A fire rating; SYNLawn® knows what it takes to build a reputation on ethical practices.
Could your company use an image makeover? It's time to reinvent the wheel and go back to basics. "Industrial" no longer holds any appeal – today, it's all about protecting the environment and displaying support for the planet through green, eco-friendly displays. Contact a skilled artificial grass expert today to talk about the ways natural grass displays can benefit your business plan.