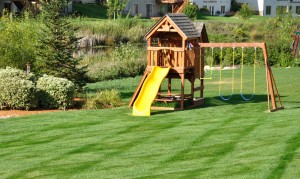 Many new artificial lawn owners find themselves caught in a very real debate: now that you don't have to mow, water, or worry about the safety of your yard, what is left? Most artificial lawn owners transfer their free time to the enjoyment of their investment – that is, cooking up new and exciting excuses to spend more time outdoors. Some even become golf or badminton aficionados. Southeast Turf / SYNlawn Carolina wants to help you make the most of your new lawn with these helpful suggestions just in time for spring.
Throw a party! Smile as your neighbors complain about the cost of watering their grass.
Sell the lawn mower. Who has time for that anyway?
Show off (your newly-cleaned garage, that is).While we're on the subject of mowers, you might as well get rid of the aerator, edgers, spreaders, and sprayers. Look at all that space!
Let children be children. Let's face it: kids play rough sometimes. You'll rest much easier knowing they are on injury-resistant turf made right here in the U.S.A.
Get close to nature. Our artificial turf is non-allergenic and maintains a full, natural appearance year-round. This is the perfect time for a backyard picnic.
Barbecue. Our turf has a class 1 fire rating so you know it's safe for backyard recreation.
Install lighting. Appreciate your new turf day and night with a few soft backyard lights to highlight the natural textures. Party lights are a great idea for a festive atmosphere.
Get a pet. Our turf is flea and tick resistant, and we even offer custom upgrades if you want to provide your pet with added security. Fido will thank you!
Go green. You've just eliminated the need for pesticide and chemical use in your yard. This is safer for pets, children, and provides you with some much-needed peace of mind.
Mix and match. Our artificial turf includes many custom options that include safety features for pets and terrain sculpting.
Take up outdoor sports. Whether you have children on the football team or have a personal interest in learning croquet, now is the time to take advantage of your durable new lawn.
Get happy! Spending time outdoors increases your vitamin D levels, which in turn makes you healthier and happier.
Install a bird feeder. Nothing says "backyard oasis" like songbirds chirping while you sip lemonade on your lawn.
Enjoy the rain. With artificial turf, muddy footprints (or paw prints) are a thing of the past! Our turf is optimized for maximum drainage as well so you'll never have to deal with rain puddles pooling by the patio.
Play! You already know all the driving ranges in the area so why not treat yourself to an at-home putting green? Roll out of bed, grab a cup of coffee, and play a quick round before heading in to work.
The freedom and long-term financial liberation from artificial grass installation is frequently overwhelming so we understand if you need a minute to process all your options. Parties, pets, lounging in the backyard… In time it will get easier to live a life with artificial grass and forget about the time when push mowers were the biggest chore of your week. Check out our photo gallery to see what kind of ideas our clients came up with and imagine your own look!