Safe Artificial Grass for Pets from SYNLawn® Carolina
Make sure that the time your pet spends outside is spent in comfort on synthetic turf from Southeast Turf. Our state-of-the-art artificial grass products come from industry leader SYNLawn®, and make for a pet turf that is at once, safe, comfortable, durable and easy to maintain. From artificial lawns to pet runs we'll create a custom design for you and your furry four-legged friend that will accentuate your outdoor space and bring beauty and value to your home.
When we install synthetic grass landscaping turf for your pet we take a great many things into consideration. What type of dog you have and how much time it spends outside are important considerations, and it's all part of creating a custom design that is unique and fits your needs.
Pet owners can expect the following benefits from our artificial turf: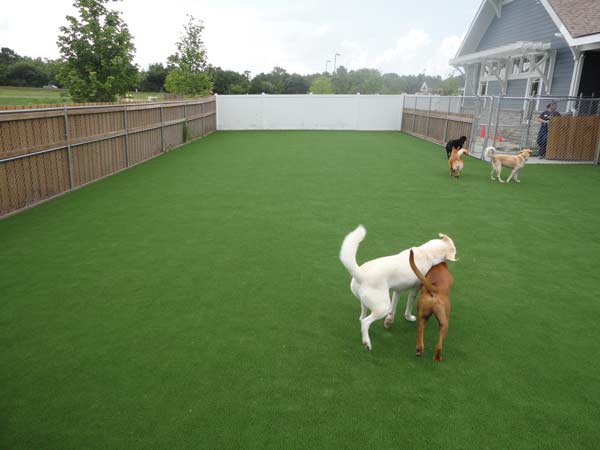 Our surfaces stay cool even during hot summer temperatures
No holes caused by your dog digging
No dirt or mud tracked into your home
No urine spots on your lawn
Pests such as fleas and ticks can't survive on our synthetic lawns
We offer custom upgrades for added security should your pet require them
As a conscientious pet owner you want to know that your pet is healthy and happy during its time outside. Our SYNLawn® synthetic turf is the ultimate pet turf because it was designed with the needs of pets and pet owners in mind. Call today and schedule a free on-site consultation. Southeast Turf will answer any and all questions you may have regarding our products, and look forward to beginning the process of outfitting your yard in a way your pet promises to love.