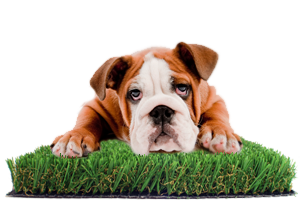 Looking for somewhere safe that your dog can play without the sacrifice of a clean, groomed home? Southeast Turf believes in the happiness of both you and your pet! We work to provide homes with the appropriate products to ensure that each dog's wellbeing is achieved. From artificial lawns to actual pet runs, we are sure our turf will make a positive difference in your house.
It is essential to remember the importance of keeping both the pet and the home in good spirits. How will a happy dog benefit the owner? There are several advantages of installing synthetic turf for both individuals.
No mess – Dogs can roll around in the grass all they want without it staining their fur or getting their paws muddy! Once they run back into the house, nothing will be tracked in from their adventure
No more potholes – Pets can scratch and dig all they want, but our grass will not be affected. A feisty four-legged is no longer a match for the artificial turf. This keeps a beautiful lawn free of unattractive punctures
No ticks – Unlike natural vegetation, synthetic grass is void of ticks. No longer should owners fret about the nasty insects clinging to their loved ones. The less ticks on the pet, the less stress for owners
Safe for the grass eaters – For those dogs that tend to eat their grass, Southeast Turf provides an option that is free of fertilizers and pesticides. While some have been concerned with lead levels in synthetic turf, this is not an issue. In 2008 the Consumer Product Safety Commission (CPSC) conducted a study of lead in artificial turf and claimed that "this evaluation found no harmful lead levels… young children are not at risk from exposure to lead in these fields." Thus, even the synthetic turf is safe for dogs
Personalize – Based on the dog's breed and time spent outdoors, we customize the design specific to your pet. This ensures that the synthetic grass will undoubtedly compliment any dog
Protected paws – Replacing concrete or other plaster with Southeast Turf products prevents a dog's paws from burning during the hot Carolina summers. A dog that can freely run around without the heat on their feet makes for a happy pet
Look into our best rated products for pet turf now to start planning for your dog's new play area! Both pet and owner will be glad they took action toward artificial grass, making for an easier and happier home.