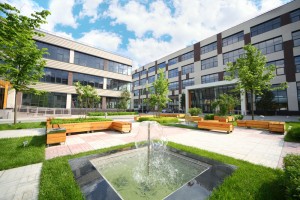 Making smart business decisions is not only beneficial for your company's image, but it's also good for your bottom line. The most powerful financial decisions a manager can make for the business are determined long before employees even enter the building. These are the decisions regarding your company's utilities. Landscaping is one of the biggest expenses many businesses have so it is crucial to choose the lowest maintenance options possible with the smallest environmental impact. Many companies in North and South Carolina turn to artificial grass for landscaping solutions that last. Not only is this the eco-conscious choice for businesses to make, but the right landscaping choices can also improve your company's overall image.
New clients form first impressions based on the company's curb appeal and overall image from the street before they ever step foot in the door. A well-landscaped business tells clients your business cares about its image and is detail-oriented. The goal is to create a welcoming environment with lush, green grass and neatly trimmed hedges. Brown patches in the lawn with overgrown areas clearly state that a business is either unwilling to maintain their surroundings or are uncaring – neither of which speaks well to the vision of a business when the goal is to bring in money.
When a company is growing, it is important to look at every cost to make sure finances are streamlined in every place possible. Artificial grass requires only minimal water for cleaning so you can eliminate sprinkler timers and wasted water trickling down to the curb from your lawn. With artificial grass, there is no need to hire a landscaping team to maintain the grounds; if you choose to hire one anyway, discounts are likely to be available. It is always best to contact your local SYNLawn® representative for more information about discounts and offers available to you.
SYNLawn® artificial grass is socially responsible. SYNLawn® utilizes post-consumer waste and all grass products are 100 percent recyclable. By eliminating the need for mowing, your business also saves fossil fuels. Our artificial turf incorporates soy backing for maximum durability and sustainability. Because of this eco-friendly stance, you can qualify for LEED credits with our synthetic grass. This is a great way for businesses to reduce their carbon footprints and make a difference in the community.
To further add to the value of your company's landscaping, SYNLawn® artificial grass in North and South Carolina is clean! Artificial grass is bacteria-resistant to reduce the number of sick days your employees take each year. Synthetic turf also repels pests such as fleas, ticks and mosquitoes. A drainage rate of 120-liters per hour reduces the risk of standing water to help maintain a beautiful, hygienic landscape.
Invest in your landscaping the same way you invest in your employees and your business. This is the first impression many people will have of your company. It is each business' responsibility to look out for the well-being of its employees and the planet on which we live. Environmental practices are necessary to reduce carbon footprints and reduce landscaping costs overall. Complete our contact form to speak with a commercial artificial grass professional today and request completely free samples!